H.J. Martin wins 2015 Retailer Award from Floor Trends

Posted on November 17, 2015 by H.J. Martin and Son
Inaugural honor recognizes most professional and creative flooring retailers by region
Green Bay, Wis. – H.J. Martin and Son has won the inaugural Floor Trends Retailer Award as the top flooring retailer in the Midwest for 2015.  The new program honors the most professional and creative retailers of the year in five regions of the United States: Northeast, Midwest, Southeast, Southwest and West.
With showrooms in Green Bay and Neenah, Wis., H.J. Martin beat out 16 other Midwest retailers to capture the award.  Award judging measured professionalism and creativity, ranging from product merchandising to overall marketing efforts.
In bestowing the award to H.J. Martin in its November 2015 issue, Floor Trends Assistant Editor Danielle Clair described the company as a "flooring retail powerhouse."  She went on to highlight the strength of the H.J. Martin installation team, the quality of its website, utilization of iPads on the showroom floor and its use of other technology, including search-engine marketing (SEM) and search-engine optimization (SEO).
"We are tremendously honored to have our retail efforts recognized as a leader on a national level," says Nicole Jensky, director of marketing for H.J. Martin. "We pride ourselves on being innovative, engaging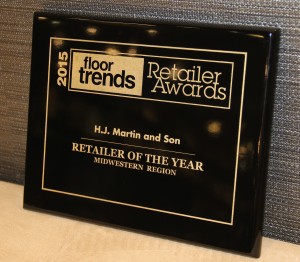 the customer and a willingness to try new ideas and products. We constantly strive for the best customer experience possible."
Floor Trends is a leading publication on news and trends in the flooring industry, serving as a resource for retailers, contractor/dealers, distributors, designers and other flooring professionals.
H.J. Martin received a custom plaque to display in its showroom.
Tags: Danielle Clair, Floor Trends, Floor Trends Retailer Award, H.J. Martin and Son, Nicole Jensky, showroom iPads, top Midwest flooring retailer