H.J. Martin receives top Starnet Honors

Posted on June 18, 2020 by H.J. Martin and Son
H.J. Martin and Son received the top honor in the Healthcare category of the 22nd Annual Starnet Design Awards. The company's award-winning flooring project was HSHS St. Vincent Children's Hospital Pediatric Emergency Center in Green Bay, Wis.
The award winners, chosen from 114 total nominees, were announced on June 2 in a virtual ceremony. The Starnet Design Awards each year celebrate the partnerships between Starnet members, Starnet preferred vendor partners, architects and designers, while spotlighting the innovative use of flooring in commercial design.
H.J. Martin and Son will receive a crystal trophy as recognition of its selection as the Gold Winner in the Healthcare category of the 2020 Starnet Design Awards. Additionally, Starnet is donating $500 to a local charity, the Boys & Girls Club of Greater Green Bay, selected by H.J. Martin and Son.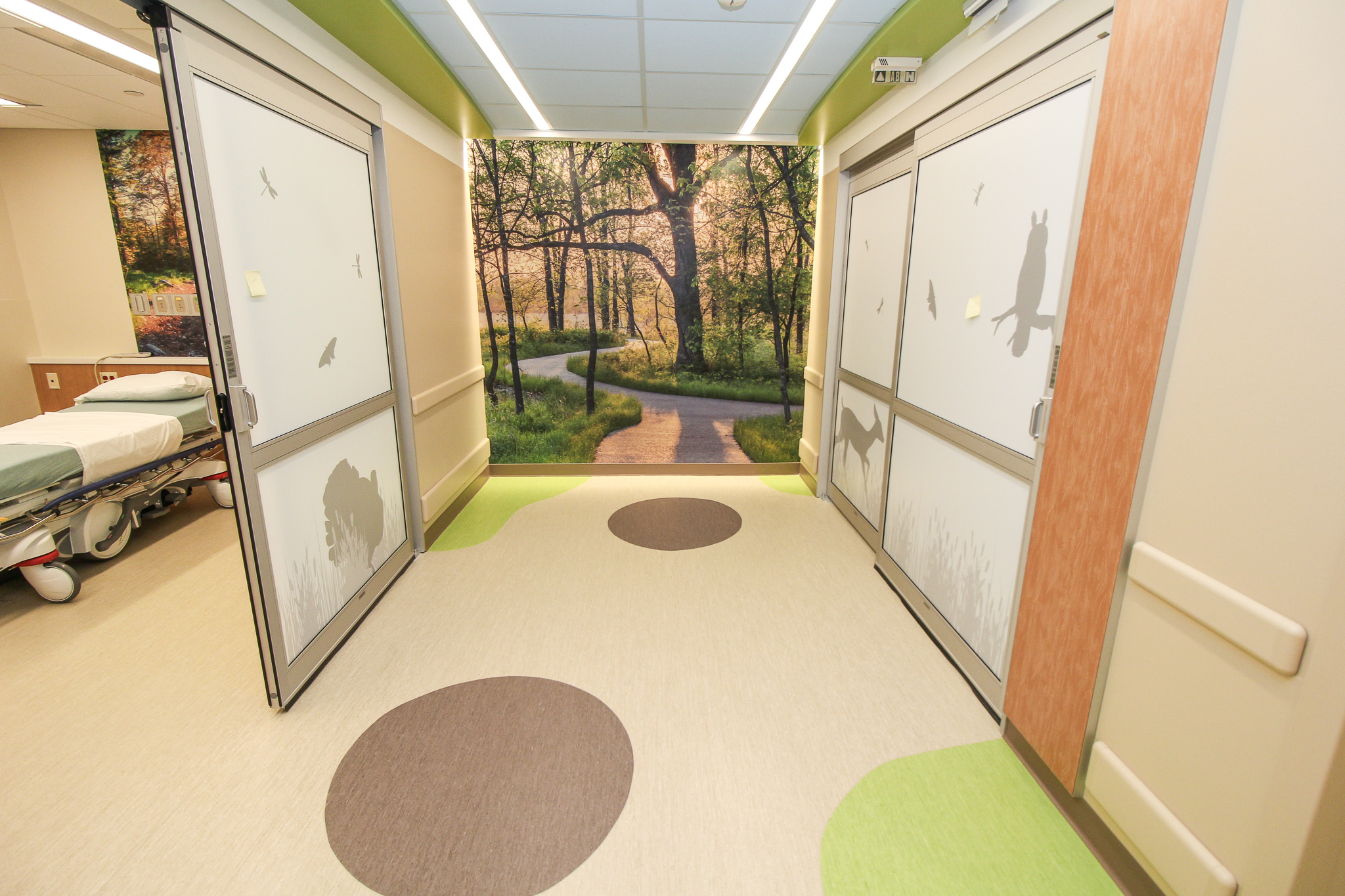 Award nominations were judged on three specific criteria:
Creative use of flooring
Flooring design and integration into the overall space
Successful meeting of client objectives
The HSHS St. Vincent Children's Hospital Pediatric Emergency Center project of H.J. Martin and Son was chosen as the Gold Winner in the Healthcare category, a group which includes facilities like hospitals, clinics, doctor's offices, and health campuses with applications in operating rooms, patient rooms, entryways, reception areas, waiting rooms, dining halls and other areas.
"This was a cool, funky and playful project that uses the floor in a prominent way," said Starnet Awards Judge Chi-Thien (CT) Nguyen. "It's distracting for kids undergoing treatment and creates a happy area out of a windowless space. It's a very deserving winner.
HSHS St. Vincent Hospital has served the Green Bay community for more than 130 years. In 2015, the healthcare provider announced a dedicated children's hospital within its existing facility – one of only five children's hospitals in the state – that serves nearly 20,000 pediatric visits annually.
Four years later, the healthcare provider took its commitment to area kids a step further with the opening of the HSHS St. Vincent Children's Hospital Pediatric Emergency Center. The 2,500 square feet of renovated space included a large play area with interactive games, a spacious waiting room and six patient rooms specifically designed for children. The ultimate goal was to create an environment of hope and healing, which was done through the use of evidence-based design.
The new facility was intended to put families at ease, utilizing forest murals at the head of each bed and a Northwoods theme throughout. Customizable colored lighting offers kids the opportunity to choose their favorite color within each patient room.
The flooring was used to create spaces that look like a forest pathway with large, pebble-like insets and green sheet vinyl to represent grass, complementing the overall nature theme. The floor pattern follows the shape of a few wall graphics in order to extend the pathway visually.
A challenge successfully met was unique pattern cutting and ensuring that pattern lines lined up to wall graphics. To illustrate, there is a path cut into the hallway that meets up to a path in the tree graphic on the wall; these line up to create Trompe l'oeil.
"We take great pride in the Healthcare work of our commercial flooring division, and are honored to have the St. Vincent Pediatric project recognized nationally by Starnet, a leader in the flooring industry," says Edward Martin, president and CEO of H.J. Martin and Son. "This recognition would not be possible without the outstanding craftsmanship of our installers. All credit goes to them!"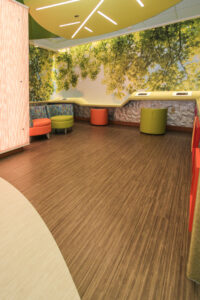 Tarkett iQ Optima homogeneous sheet vinyl – in the colors of Malt, Forest Thickett and Clover Leaf – was utilized in the hallways, patient rooms and waiting area. Luxury vinyl tile (LVT) by Tandus Centiva, in Ore and Ash colors, was utilized in the reception area.
Other Starnet preferred vendor products used on the project included Bostik and UZIN Utz North America.
Berners Schober of Green Bay was the architect. Matt Rohloff oversaw the project for H.J. Martin and Son, while a team of seven company installers completed the phased work over a five-month period in the second half of 2019.
An elite panel of architect and designer professionals provided their expertise in judging the 2020 Starnet Design awards. They were:
Tracy Herzer; IIDA, NCIDQ, LEED AP, WELL AP – Senior Interior Designer, The S/L/A/M Collaborative
Chi-Thien (CT) Nguyen; LEED GA, associate AIA – Chair of Preservation Design, Savannah College of Art and Design
Jane Rohde; AIA, FIIDA, ASID, ACHA, CHID, LEED AP BD+C, GGA-EB – Principal, JSR Associates
Starnet is the world's largest network of full-service independent flooring contractors. Its 171 locally owned members in North America are committed to the highest standards of excellence in the industry. H.J. Martin and Son is one of four Starnet members operating in the state of Wisconsin.
Tags: award-winning healthcare flooring, Berners Schober, Bostik, Boys & Girls Club of Greater Green Bay, Chi-Thien (CT) Nguyen, creative use of flooring, Edward Martin, H.J. Martin and Son, HSHS St. Vincent Children's Hospital Pediatric Emergency Center, Jane Rohde, Matt Rohloff, Starnet, Starnet Design Awards, Starnet Gold Healthcare Design Award, Tandus Centiva LVT, Tarkett iQ Optima sheet vinyl, Tracy Herzer, Trompe l'oeil, UZIN Utz North America