H.J. Martin receives top honor for environmental achievement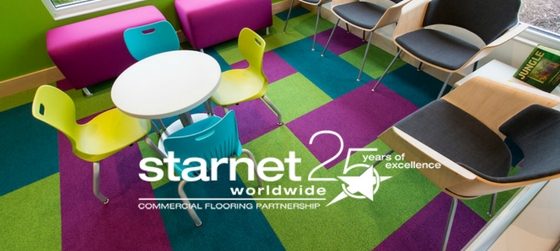 Posted on September 26, 2017 by H.J. Martin and Son
Company recognized with Gold Starnet® Worldwide Award for its environmental stewardship
Green Bay, Wis. – The Starnet® Worldwide Commercial Flooring Partnership today joined H.J. Martin and Son at a celebratory luncheon held in the company's Green Bay showroom to recognize its receipt of the 2017 Gold Starnet Environmental Achievement Award.  Fred Williamson, executive vice president for Starnet®, was on hand, along with fourth-generation executive David Martin of H.J. Martin and Son.
H.J. Martin and Son captured the top Starnet® honor in Environmental Stewardship this year after winning the Bronze award in 2015 and Silver in 2016.
Starnet® represents more than 170 locally owned, full-service flooring contractors throughout North America.  H.J. Martin and Son is one of four Starnet® members serving Wisconsin.
"We applaud the management of H.J. Martin and Son for taking the initiative, and for continuing to focus on, sustainability," said Williamson in his remarks to company leaders.  "Thank you for raising awareness, both inside and outside of the flooring community, and for being a strong leader in environmental stewardship."
Starnet® annually recognizes member companies who undertake initiatives "to preserve our resources so future generations can enjoy them."
"We thank Starnet® for this great honor," said Martin in receiving the award.  "H.J. Martin and Son appreciates the partnership with Starnet® as it makes us a better company.  We look to Starnet to gain best practices from commercial contractors across the country and to implement them in our business.  This award is a credit to our team and customers who are environmentally conscious."
Among the environmentally friendly initiatives undertaken by H.J. Martin and Son are the installation of LED lights on the sales floor of the company's two showrooms, offices and warehouse, reducing electricity use to one-sixth of its prior amount; the use of eco-friendly products for installations whenever possible; the implementation of electronic time-card and payroll systems; the conversion of all accounting reports and postings to a PDF format to reduce paper use; separation of cardboard and wood waste from normal on-site trash for proper recycling and disposal; purchase of a new server and storage equipment to reduce electricity use by one-half, along with decreasing cooling needs; participation in a local program to recycle used cell phones; and company promotion of carbon-footprint reduction through car-pooling and bicycling to work.
H.J. Martin and Son also partners with Carpet America Recovery Effort (CARE) for the recycling of used carpet and pad.  In 2016 alone, the company recycled 79,380 square feet, weighing 549,070 pounds.
Tags: 2017 Gold Starnet Environmental Achievement Award, Carpet America Recovery Effort, David Martin, environmental achievement, Fred Williamson, H.J. Martin and Son, Starnet, Starnet Worldwide Commercial Flooring Partnership, sustainability in flooring