H.J. Martin named Walls & Ceilings 'Top 50' second year in row

Posted on October 2, 2017 by H.J. Martin and Son
For the second year in a row, H.J. Martin and Son has been selected to the esteemed 'Top 50 Contractors' list of Walls & Ceilings magazine. Widely regarded as the leader in coverage of the walls and ceilings industry, the publication has chosen its annual list since 2013.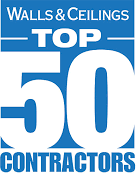 H.J. Martin and Son was named to the W&C 'Top 50' for the first time in 2016, and for the second straight year is the only Wisconsin-based contractor among the 'Top 50.'
"We believe what differentiates our Walls and Ceilings division is the experience level of our installers," says H.J. Martin and Son CEO Edward Martin. "Many have worked for us for decades and provide excellent work, no matter the type of project. We thank Walls & Ceilings magazine for recognizing our people."
The Walls and Ceilings division of H.J. Martin and Son reached its apex this year, hitting full capacity with the largest drywall project in company history, the new Marquette General Hospital in Marquette, Mich. Roughly 120 employees are on the Marquette job site at any one time among 145 divisional workers.
Built under the guidance of general contractor Skanska Closner, the new Marquette General Hospital is a state-of-the-art, 500,000-plus square foot facility with 265 beds. H.J. Martin and Son is handling a wide range of work on the new health structure, including Gypsum Drywall, Cement Board and Exterior Sheathing; Metal Studs and Framing; Tape and Finish; Sound and Thermal Insulation; Installation of Hollow-Metal Door Frames; Lead-lined Drywall and Radiation Protection; and Acoustical Ceiling Systems.
The Drywall division of H.J. Martin and Son – today known as Walls and Ceilings – came into existence in 1984, when Martin went to purchase a forklift from a local drywall company that was liquidating its assets. After a conversation with a former employee of the closed business, he decided to start a new division within H.J. Martin and Son.
The implementation of a drywall division ultimately positioned the company for later success as a national interior contractor. H.J. Martin and Son today works on behalf of many of the best-known retailers in the U.S. Its specialties include commercial metal-stud framing, drywall installation, drywall finishing, acoustical ceilings, specialty ceilings, operable partitions and acoustical wall panels.
Projects of the Walls & Ceilings division include medical facilities, office buildings, sports and entertainment facilities, retail, K-12 and post-secondary educational buildings, casinos and hotels. On the retail front, H.J. Martin and Son regularly handles Walls and Ceilings work for retailers across the nation.
The company also has a long history of walls and ceilings work at iconic Lambeau Field in Green Bay, dating back to 1985 when the stadium's first-ever luxury suites were built.
"All of these Top 50 contractors have displayed numerous skill-sets that warrant them to be among the best," wrote Walls & Ceilings Editor John Wyatt in introducing the 2017 winners. "What makes these companies the best is their thirst to stay progressive and relevant. That means employing new technology, actively looking for new products, competitive employment opportunities, safety departments and so much more. All in all, their talents have sustained their business model and made them industry leaders."
Walls & Ceilings serves the interior and exterior wall and ceiling industry with the latest news and information regarding building methods, drywall, stucco/EIFS, ceilings, acoustics, steel framing, insulation, plaster technology and regulations in the market. The publication bills itself as, "The Voice of the Industry since 1938."
Tags: acoustical ceilings, acoustical wall panels, casinos drywall, Cement Board, commercial metal-stud framing, drywall finishing, drywall installation, educational building drywall, Edward Martin, entertainment facility drywall, Exterior Sheathing, Gypsum Drywall, H.J. Martin and Son, Hollow-Metal Door Frames, hotels drywall, John Wyatt, Lambeau Field drywall, largest drywall project in company history, Lead-lined Drywall, Marquette General Hospital, medical facility drywall, Metal Studs and Framing, office building drywall, Operable Partitions, retail drywall, Skanska Closner, Sound and Thermal Insulation, specialty ceilings, sports facility drywall, Tape and Finish, Walls & Ceilings magazine, Walls & Ceilings Top 50 Contractors, Wisconsin drywall contractor