Furniture lift system provides option for facility managers

Posted on April 2, 2015 by H.J. Martin and Son
New video shows ease of office remodeling with minimal disruption to office operations
H.J. Martin & Son has introduced a short video that demonstrates the ease with which facilities now can update their office flooring or commercial floors without lengthy employee downtime and the logistical challenge of moving cubicles and furniture using a furniture lift system.
The video provides a clear understanding of how simple it can be for facility managers to replace office carpet, including the ability to replace carpet around cubicles, using H.J. Martin's team of experienced installers who use the patented Renovisions Lift System in an overnight office floors install, both of which minimize office disruption.
"So often, facility managers come to us, looking for a way to replace existing office floors without an extreme interruption to office operations," says Gary VandenLangenberg, vice president of commercial interiors for H.J. Martin. "We tell them about the Renovisions Lift System, and while they're intrigued by it, sometimes it's hard to visualize how easily the flooring makeover can occur within their own office."
"We were excited to develop this video, which was shot during an actual commercial floors installation, because it gives a clear picture of what can be done and how H.J. Martin will do it with minimal disruption to employee production."
Modular carpet tile, available in a palette of design options, allows for piece-by-piece installation around and under in-place office furniture. It also provides the opportunity to replace any damaged office carpet squares in the future, using leftover attic stock.
The video was written, filmed and edited by Silent H Studio of Green Bay, Wis.
Learn more about our furniture lift system for replacing your commercial floors or office floors – overnight installation minimizes office disruption.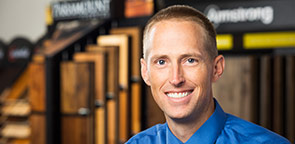 Fill out the form below or call Gary at: 920-490-3150
---
Tags: facility managers, Furniture Lift System, Gary VandenLangenberg, modular carpet tile, Renovisions Lift System, Silent H Studio