Falling for an Autumn Pallet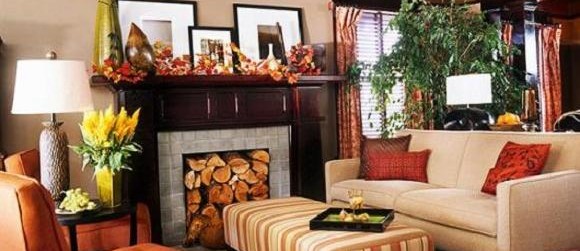 Posted on September 6, 2015 by H.J. Martin and Son
Living in the Midwest we are fortunate enough to experience all four seasons. Many of us would rather one season in particular be shorter by at least a couple months. But if you live in Wisconsin, you likely have learned to love the change in seasons along with our Packers. This means we take the good with the bad whether we are discussing football fandom or seasonal weather swings. Extreme temperature changes can literally happen within a day, but the smells, wildlife and colors of the seasons add a dimension to our lives that somehow makes every breath we take more vivid and rich….making us more ALIVE.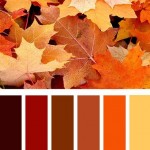 The colors of the seasons are emulated and mimicked in much of our Midwest interior design, by no accident. Autumn tones in particular gloriously translate to our interior spaces evoking memories of spiced apple crisp, earthy fallen leaves and football season. They remind us of exciting times like 'back to school' and the whimsy of trick or treating. It's no wonder the autumn color pallet is so well loved in American residential interiors. Rich warm brown hues combined with contrasting electric golds, fiery reds and vibrant oranges appeal to us by inspiring heart warming memories of time spent with family and friends during our most fleeting and perhaps most beautiful season.
Well beyond decorative seasonal changes on a mantle or table centerpiece celebrating Thanksgiving, the colors of autumn can literally warm our homes instantly. With the current popularity of gray color schemes in home interiors, warmer pallets are in the minority in today's home design. But nature never goes out of style and an autumn color scheme welcomes you with a warm hug every time you encounter it.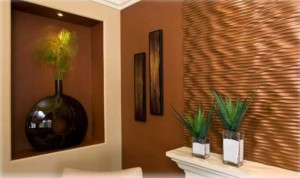 Natural textures like wood grain and cleft slate paired with the earthiness of rich coppers, brick reds and sepia tones connect in an effortless way only nature can. Embossed neutral tile patterns, organic shag area rugs, unexpected wood look luxury vinyls and gorgeous slate mosaic backsplash tile are just a few surprising autumn inspired materials you will find at your HJ Martin designer showroom. Our designers will help you create the type of home that harkens the happiest and coziest of fall memories for you, your family and friends. Visit us soon in Green Bay or Neenah to fall for an autumn pallet in your home.
Tags: Autumn, Brown hues, Copper, Fall, Interior Design, Midwest, Seasonal decor, Sepia tones, Wam pallets, Warm