Community investment made through Edward & Terri Martin Family Atrium at new Bellin Health sports medicine clinic

Posted on June 5, 2017 by H.J. Martin and Son
H.J. Martin and Son has continued to demonstrate its commitment to Northeast Wisconsin through multi-faceted involvement in the new Bellin Health Titletown Sports Medicine & Orthopedics clinic, slated to open in late July 2017. Designed to be the premier sports-medicine practice in the region, the 52,000-square-foot facility is part of the Green Bay Packers' "Titletown District," a destination venue adjacent to iconic Lambeau Field.
The company and its owners, Edward and Terri Martin, are the benefactors of the "Edward & Terri Martin Family Atrium, sponsored by H.J. Martin & Son, Inc." The Martin Family Atrium will be the first impression of an estimated 40,000 annual visitors to Bellin Health Titletown Sports Medicine & Orthopedics. Multiple company divisions also are participating in the building's construction.
The Martin Family Atrium will greet entering patients, allowing them to register efficiently. It also will serve as a comfortable lounge for those waiting on patients and athletes. The center additionally has the ability to meet community, educational and conference space needs.
"The Edward & Terri Martin Family Atrium is the entryway to Bellin Health Titletown Sports Medicine & Orthopedics," says Bellin Health President & CEO George Kerwin. "We've designed everything in this facility with athletes in mind. Our commitment is to bring Green Bay a state-of-the-art facility, rapid access, the finest diagnostic technology available and expert medical care all centered on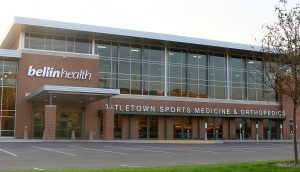 individual athletes. Our goal is to get them back to what they love – faster. Edward and Terri Martin's support of these services visibly demonstrates their commitment to improving the health and wellbeing of people living in our community."
The Martin Family Atrium will feature an open-design concept, with exposed structure and mechanical systems similar to those at Lambeau Field. There will be interior brick accent walls, along with maple hardwood wall accents.
A notable characteristic of the center is a large, glass wall which faces Lambeau Field. Custom artwork by Elevate97, a Green Bay-based design and branding firm, will include a display case, a "running man" and soles on the walls of new patient check-in kiosks.
The approximately 3,000-square-foot lobby also will provide access to state-of-the-art conference/community rooms.
"Our family has been involved with Bellin Health and the Bellin Health Foundation for more than 35 years, going back to my father, Patrick," says Edward Martin, president and CEO of H.J. Martin and Son. "We want to support this community which has given so much to us, and we believe that one of the keys to a strong community is quality healthcare.
"This facility will have the latest technical advancements for orthopedics and a focus on patient care. To have the company name associated with this project seemed like a natural fit and will be a source of great pride."
H.J. Martin and Son also has hands-on involvement throughout Bellin Health Titletown Sports Medicine & Orthopedics. Four company divisions worked on the project: Walls & Ceilings, Glass & Glazing, Doors & Hardware and Commercial Flooring.
Walls & Ceilings provided metal-stud framing, gypsum board and acoustical ceilings, while Glass & Glazing handled all of the building's interior and exterior glass and curtain wall. The company additionally furnished its custom doors and hardware.
The commercial flooring division of H.J. Martin and Son installed the wide variety of flooring products needed within a health center, including carpet, resilient flooring and ceramic tile.
Bellin Health has served Green Bay and Northeast Wisconsin for more than 100 years. Today, it is an integrated health-care delivery system, comprised of hospitals, medical centers, sports medicine and rehabilitation facilities, fitness centers, a nursing college, medical-equipment sales and in-home care.
Bellin Health Titletown Sports Medicine & Orthopedics will be geared towards injury prevention, performance improvement, and treatment and therapy for injuries. It will include laboratory, x-ray and MRI areas, along with sports nutrition and sports psychology services.
The facility will be headlined by long-time Green Bay Packers team physician Patrick McKenzie MD, along with leading foot/ankle specialist Robert Anderson MD, James Spears MD, James Ebben MD and Gil Freeman MD, who will be joined by other top sports-medicine specialists. In all, approximately 80 Bellin staff members will be working on site.
Miron Construction is the general contractor for Bellin Health Titletown Sports Medicine & Orthopedics, while Somerville Inc. was the project architect.
Tags: Bellin Health, Bellin Health Titletown Sports Medicine & Orthopedics, community wellbeing support, Edward & Terri Martin Family Atrium, Edward Martin, Elevate97, George Kerwin, Gil Freeman MD, Green Bay Packers, Green Bay Packers team physician, H.J. Martin and Son, James Ebben MD, James Spears MD, Lambeau Field, Miron Construction, Patrick McKenzie MD, Somerville Inc., Terri Martin, Titletown District