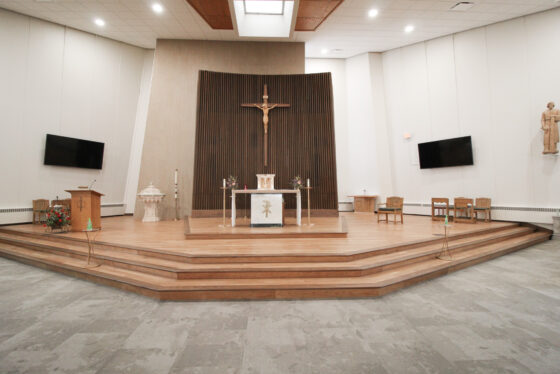 Case Study
St. Francis Xavier Parish De Pere
Project Divisions: Flooring & Ceramic Tile
Location: De Pere, Wis.
Completion Date: December, 2020
Project Description:
In collaboration with a larger project involving the Green Bay Area Catholic Education (GRACE) system, St. Francis Xavier Parish renovated its sanctuary and built a new parish center at the end of 2020. 
Home to more than 800 families in the De Pere area, St. Francis Xavier's current church building dates back to 1905 and the original school building back to 1924. The elementary and middle schools at St. Francis were razed and ultimately combined with Notre Dame of De Pere as the new elementary and middle school for St. Francis and St. Mary's. The new school facility was completed in August 2020 before school started.
St. Francis' new parish center and the renovated sanctuary were finished before the Christmas mass celebrations.
H.J. Martin and Son performed all of the commercial flooring installations throughout, including carpet tile, luxury vinyl tile, and ceramic tile. 
J&J carpet tile was installed in the narthex gathering space, corridors, classrooms, offices, and vestibules. Tandus carpet tile was used in the sanctuary space. Luxury vinyl tile from Armstrong was installed in the fellowship hall and Daltile tile was installed in the restrooms. The most striking installation is the overall altar, including Daltile wall tile on the back wall and the sand-on-site oak hardwood installed on the altar floor and steps. 
H.J. Martin and Son was on site for a total of five months and had two ceramic installers, two carpet installers, and three hardwood installers in and out of the project. The most difficult part of the job was the installation of the wall tile, which included the use of lifts, considering the size. Additionally, H.J. Martin and Son stored the church's pews during construction. The project was successfully finished before Christmas. 
---
Navigate Featured Projects
Connect With A Specialist