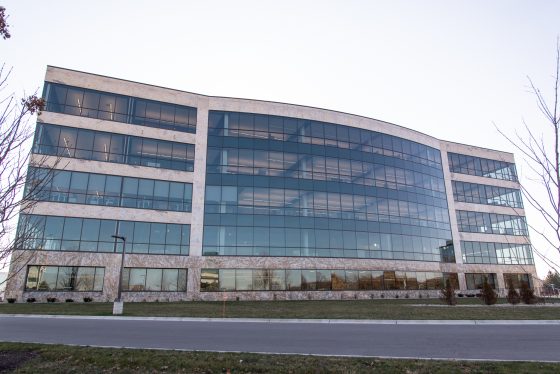 Case Study
Sauk Trails II
Project Divisions: Glass & Glazing
Location: Madison, Wis.
Completion Date: February, 2018
Project Description:
Sauk Trails Plaza II is a new, five-story office building on the west side of Madison, Wis. Like its sister building, completed in 1997, glass and granite give the structure a clean, modern look.
NSI, a division of West Bend Insurance Company, occupies the top three floors of the 160,000-square-foot structure, which also includes a spacious fitness facility and an outdoor patio area with landscaping that complements the building's curvature and materials.
The Glass and Glazing division of H.J. Martin and Son spent eight months (July 2017 through February 2018) working on this project. The crew of 8-10 installed five floors of exterior glass, along with interior glass work in the building's penthouse.
Products utilized included Kawneer 1600 Wall System 2 Curtain Wall and 451T Front Glaze SSG (Structurally Silicone Glazed).
A unique characteristic of the project was the installation of long-run radius curtain walls and regular storefronts. Another was its use of interior feature glass walls and doors (Old Castle system of full-view glass).
Interior glass railings with wooden tops (metal is typically used) also were a part of the installation, along with some mirrors.
Along with a tight project schedule, site conditions were a significant challenge in completing the glass and glazing work.
H.J. Martin and Son Project Manager Chad Hultman worked closely on the project with Iconica, the general contractor/architect, and Old Castle Glass, the glass supplier.
---
Navigate Featured Projects
Connect With A Specialist