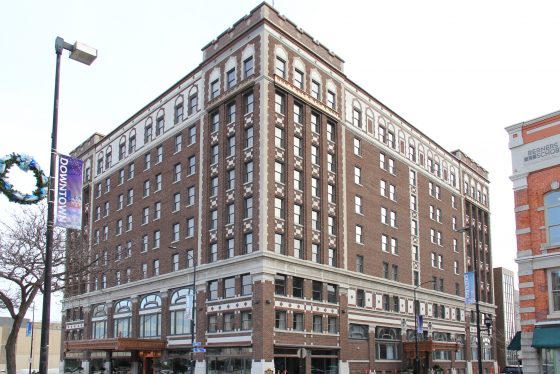 Case Study
Hotel Northland
Project Divisions: Floorcare, Flooring & Ceramic Tile, Glass & Glazing
Location: Green Bay, Wis.
Completion Date: November, 2018
Project Description:
The Hotel Northland is a restored 1920s-era hotel located in downtown Green Bay. First opened in March 1924 as the largest hotel in the state, today its building is listed on the Wisconsin State Register of Historic Places.
Work to return the structure to an operating hotel began in 2016. Designers sought to highlight its original architecture and to bring back the classic style of gilded and dark wood, while adding modern touches and amenities, in the $40 million-plus project.
The Hotel Northland reopened in February 2019 as a Marriott Autograph Collection property, a luxury brand of the hotelier, with 160 guest rooms over five floors, including 16 suites. It also boasts two on-site bars and restaurants, along with a luxurious ballroom for events.
Three divisions of H.J. Martin and Son – Glass & Glazing, Commercial Flooring & Ceramic Tile, and Floorcare – worked on this Historic Preservation project in its hometown. A host of different challenges were successfully met in completing the work.
The Glass & Glazing division installed Kawneer storefront material (painted medium bronze), Oldcastle glass, and DORMA revolving doors and swing-door operators. The revolvers had to be set on the existing tile floor, while the original copper flashing needed to be reused in order for the project to receive planned-for historical tax credits.
The Glass & Glazing team also installed 3M™ Security Window Film and Dusted Crystal in all room windows where a bathtub was located. Dealing with these transom windows provided an additional challenge due to outdated building techniques remaining from the original construction.
The company's Commercial Flooring division successfully navigated the difficulties related to the building's age and an uneven subfloor in multiple locations.
The 160 guest rooms and nearby corridors had double-stick pad with glue-direct, custom broadloom carpet installed by the H.J. Martin and Son team. Broadloom similarly was utilized in all meeting rooms, other common spaces and office areas. In all, roughly 11,000 square yards of carpet was installed on the project.
Guest bathrooms saw tile installed on the floor, along with a five-foot wainscot on adjacent walls. Custom tile showers and tiling around tubs, with a Dal-Seal waterproof membrane, also were part of this complex installation.
In other areas of the hotel the tile installation included tile floors with five-foot wainscot within public restrooms, along with quarry tile with cove base in the kitchen and pantry areas. Approximately 61,000 square feet of tile was installed in total.
Basement storage areas had roughly 8,100 square feet of vinyl composition tile (VCT) installed, while the hotel gym utilized rubber flooring tiles to condense sound from the weightlifting equipment.
Multiple challenges were overcome in the course of the flooring and tile installations, many related to the subfloor conditions of the original building. Among these were a very poor substrate, uneven floor levels, a two-inch difference between one building and another, existing tile and carpet adhesive requiring removal, and areas needing fill to flush out with in-place tile.
About 80 percent of the entire building required some type of self-leveling work before the flooring could be installed. SCHÖNOX products helped to meet these challenges.
The 160 guest bedrooms were poured flat to receive glue-down carpet, and the 160 guest bathrooms were leveled to accept floor and wall tile. All corridors were troweled with SCHÖNOX AST, a synthetic gypsum-based smoothing and repair compound for interior substrates, to ramp off the thresholds.  Common areas also had to be poured flat in order to receive carpet, tile, VCT and rubber flooring.
The tile installation required a crew of 10-12 H.J. Martin and Son employees over a six-month period. Six company personnel installed the carpet and resilient flooring over a four-month span.
The H.J. Martin and Son Floorcare division was called upon to restore all of the hotel's historic tile, which was located in the main lobby, ballroom, a bar/restaurant area, elevator lobbies and second-floor common space.
Four company personnel worked on these areas over an eight-day period. Wax was stripped off of 11,600 square feet of existing tile floors and returned to its original finish.
---
Navigate Featured Projects
Connect With A Specialist