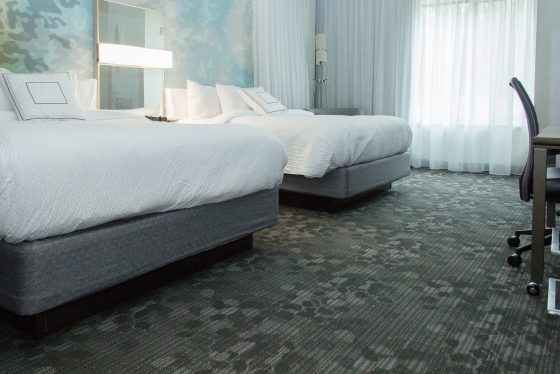 Case Study
Courtyard Marriott Appleton Riverfront
Project Divisions: Flooring & Ceramic Tile
Location: Appleton, Wis.
Completion Date: September, 2017
Project Description:
The Courtyard Marriott Appleton Riverfront is a four-story, 97-room hotel along the banks of the Fox River in Appleton, Wis. The $12-million property is on the north end of the RiverHeath District, a commercial/residential mixed-use development that also includes townhouses, apartments, retailers, small businesses, offices, restaurants and a coffee shop.
The Commercial Flooring division of H.J. Martin and Son participated in the installation of multiple flooring materials on this project. Largest among them was 16,000-square-feet of tile products, including large-format tile (15×30) in the hotel's lobby.
The tile was installed with epoxy grout rather than conventional grout and mortar. While this product is more technical and difficult to install, it provides enhanced durability and hardness, along with being nearly stain proof. The H.J. Martin and Son installers expertly utilized the epoxy grout (and mortar), which is more difficult to shape and slope, has potential slumping issues after the floor is finished, and generally takes days longer to cure.
Extensive use of wall tile, with accents, also was a featured element of this tile installation.
Other flooring products installed on this project were 4,200 yards of patterned carpet, 9,000 lineal feet of carpet base and luxury vinyl tile (LVT).
A 12-person crew from H.J. Martin and Son successfully completed this project over a four-month period from May to August of 2017.
---
Navigate Featured Projects
Connect With A Specialist