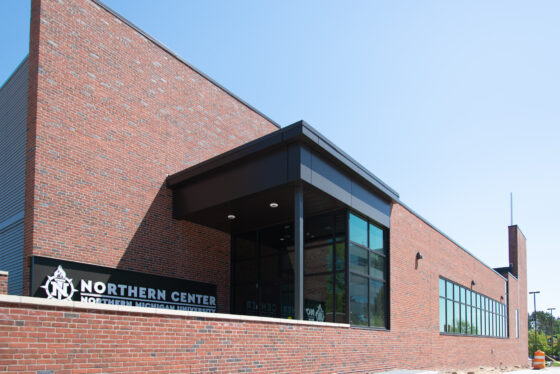 Case Study
Northern Center at Northern Michigan University
Project Divisions: Glass & Glazing, Walls & Ceilings
Location: Marquette, Mich.
Completion Date: September, 2019
Project Description:
Northern Michigan University is a four-year, public university located in Marquette, Mich., of more than 7,700 undergraduate and graduate students. The university desired to transform an on-campus building formerly known as the University Center into a gathering place for the campus community, along with for Marquette County residents and the entire Upper Peninsula of Michigan.
To do so, the structure was completely renovated in 2019 at a cost of $22.3 million, converting it into a dynamic and modern edifice with enhanced functionality. The project was completed in two phases, an addition and a renovation.
The new, state-of-the-art facility offers 25,000 square feet of comfortable meeting and event spaces for small groups up to over 1,000 people in the Grand Ballroom. It features new audiovisual technology, including 10×16-foot, large-format screens and built-in projectors.
Student-focused areas are centered on the facility's first floor. These include a new university bookstore, a student activity zone with a pub-style atmosphere and games for relaxation and socialization, dining options, banking space, the campus radio station and the Center for Student Enrichment.
A new exterior façade, changed to glass from masonry, was constructed at the building's main entrance to create a signature look that functions as the front door of the university. The glass wall enhances the views into and out of the facility. A contemporary canopy was added above the main entrance.
The Walls & Ceilings division of H.J. Martin and Son spent 13 months (August 2018 to August 2019) on this large-scale project, utilizing a crew ranging from 8-10 drywall carpenters and 2-4 tapers.
In all, materials included 178,000 square feet of drywall, 12,500 linear feet of interior framed walls and 3,300 linear feet of exterior framed walls. Walls & Ceilings also installed a two-story curtainwall canopy, which helps bring attention to the building's elegance for arriving guests.
A unique product installation on this project was partition isolation pads, which are designed to reduce sound transfer in walls. Manufactured by Kinetics Noise Control®, these Wallmat isolation strips are installed on the tops and bottoms of a wall that you would like to isolate from another room.
An eight-person crew from the Glass & Glazing division of H.J. Martin and Son overlapped the work of Walls & Ceilings. Its most visible aspect on the project was the large glass curtainwall on the front-facing side of the building's addition. Much of this work was completed during the harsh winter months of Michigan's Upper Peninsula.
Storefront glass was installed in the renovated portion of the facility. Interior glazing work included glass handrails.
With a portion of the project consisting of a renovation, H.J. Martin and Son successfully met the challenge of unanticipated issues which must be addressed. The company also was able to maintain an aggressive work schedule, established in order to hold scheduled wedding receptions in the Grand Ballroom.
---
Navigate Featured Projects
Connect With A Specialist