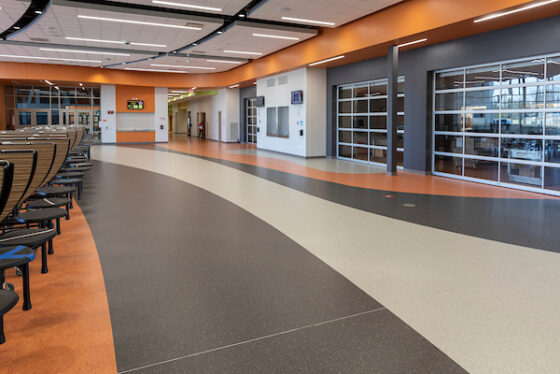 Case Study
Horicon School
Project Divisions: Flooring & Ceramic Tile
Location: Horicon, Wis.
Completion Date: July, 2020
Project Description:
Horicon is a small town of 3,655 residents located in South Eastern Wisconsin. The Horicon community located in South Eastern Wisconsin voted to approve a $26.52 million referendum to construct a new elementary school attached to the junior/senior high school. The referendum was approved by more than 61 percent of the vote, giving the district great support to move forward on the project. 
The project officially kicked off in December 2019 for the H.J. Martin and Son Flooring division, specifically remodeling the existing middle/high school corridors, front offices, library, and some classrooms. They also worked in the brand new elementary school offices, lunchroom, gym, library, and classrooms. 
Carpet was installed throughout the buildings including classrooms, offices, and study areas. The carpet has large, half-circle patterns throughout with a variety of colors including grey, blue and black. It was critical that the flooring installers cut and line up the various colors of carpet to match the circular design. 
Rubber Nora flooring was also installed in the hallways, and the lunchroom. Throughout the Nora flooring, there are paths with waves of color including different shades of orange, green, and grey. The flooring was designed so the layout of colors would land in the correct spots throughout the rooms. 
With the complex patterns in the carpet and rubber flooring, the H.J. Martin and Son flooring installers rose to the challenge, which resulted in beautiful flooring throughout the new and remodeled spaces. 3-4 installers on the project installed all of the flooring over a nine-month, multiphase period.
---
Navigate Featured Projects
Connect With A Specialist