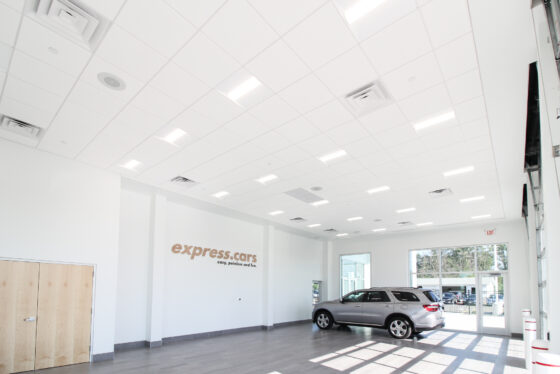 Case Study
express.cars by Bergstrom Automotive
Project Divisions: Walls & Ceilings
Location: Ashwaubenon, Wis.
Completion Date: May, 2020
Project Description:
Express.cars is an automotive retail sales company by Bergstrom Automotive that offers over 1,000 certified used vehicles for customers to shop online from any device and location. Bergstrom Automotive is one of the top 50 automotive retailers in the U.S. and employs over 1,400 people. With the current state of our world, Bergstrom Automotive wanted to utilize a platform that would allow for a contactless car buying experience for their customers through express.cars. 
H.J. Martin and Son installed the ceilings at their delivery and customer service center located on Ramada Way in Ashwaubenon, WI. The Walls and Ceilings division installed 4,000 sq ft of 9/16" Armstrong Ultima ceiling tile throughout the entire building. It was installed in early May of 2020 and it took one installer two weeks to complete. 
---
Navigate Featured Projects
Connect With A Specialist