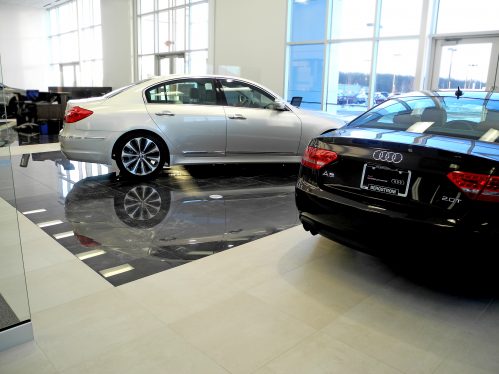 Case Study
Bergstrom Victory Lane Body Shop
Project Divisions: Flooring & Ceramic Tile
Location: Grand Chute, Wis.
Completion Date: February, 2015
Project Description:
The Bergstrom Victory Lane Body Shop required H.J. Martin and Son to install 16,303 square feet of Crossville's large format Empire Series tile, including Cross Colors 8×8 gloss tile and 8×8 Tread tile throughout the building. Interface carpet tile was installed in the building's sales offices.
Due to the building showcasing a large amount of glass, it was extremely important for all of the tiles to be installed perfectly flat, as any imperfections in the installation would show easily with so much direct light. The Raimondi Leveling Clip System was used to ensure a uniform tile installation.
---
Navigate Featured Projects
Connect With A Specialist