AGC Selects H.J. Martin for Two 2011 Build Wisconsin Awards

Posted on November 7, 2011 by H.J. Martin and Son
Associated General Contractors (AGC) of Wisconsin selected H.J. Martin for two 2011 Build Wisconsin Specialty Contractor Awards in the categories of Interior Finishes and Exterior Finishes. This will be the sixth year in a row that H.J. Martin is honored with such a selection.
Interior Finishes—Bellin Hospital Emergency Room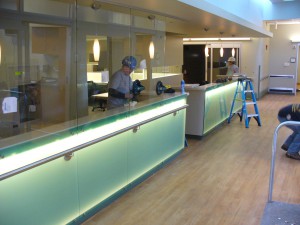 The 32,448 square-foot Bellin Hospital Emergency Room remodel expansion project caught the AGC's eye for the extensive, unique, and exacting interior finish work. H.J. Martin's Commercial Flooring; Metal Stud and Drywall; and Glass and Glazing teams worked together on the state-of-the-art Level III emergency facility.
Over 128,000 square feet of sheetrock was hung, 2,000 square feet of glass was set, and 15,600 square feet of carpet, vinyl, and tile flooring was seamlessly laid. The work was completed on a rigorous schedule while maintaining the standard of perfection and accuracy that the medical field requires and H.J. Martin is known to deliver.
Exterior Finishes—Wisconsin Institutes for Discovery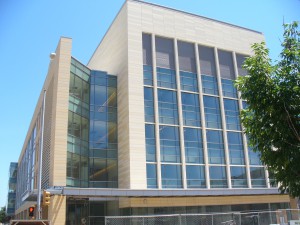 An impressive looking building, the Wisconsin Institutes for Discovery on the UW-Madison campus was opened December 2010 after an exciting build. Working from aerial lifts, the H.J. Martin team set 1,200 pieces of locally-manufactured glass, weighing up to 580 pounds apiece, after building and installing 52,000 square feet of curtain wall.
H.J. Martin welcomed the difficult exterior finishing project, overcoming the design, safety, and even weather challenges presented. Special features, including sunshades for each floor on the south side of the building and 60 automated glass vents that bring fresh air in once a day, helped the Institute achieve its LEED Gold certification.
The Institute will also serve as the host site for the 2011 AGC awards ceremony. The H.J. Martin team will be on-site December 1 to receive the awards.
More Pictures From These Impressive Projects—
Tags: AGC Build Wisconsin Awards, commercial flooring, exterior finishes, Glass and Glazing, H.J. Martin and Son, Interior finishes, Remodel, UW- Madison