Why You Need to Use 3-D Shower Rendering Services at H.J. Martin and Son

Posted on February 2, 2022 by H.J. Martin and Son
What if you could see your tiled shower before it was installed? You could know if your favorite brand of shampoo will fit on the shelf, you can see how a granite slab will look on the built-in bench, and you can see how the grout lines will likely be set. This is all possible with a 3-D rendering, one of H.J. Martin and Son's newest and most exciting design offerings.
Emma Karrels recently joined the residential design team out of our Green Bay, WI showroom as our 3-D Rendering Assistant, and she's the person who will be digitally drawing your tile shower or backsplash. While most people can mock up something in a notebook or even in a word processor, there truly is nothing like seeing the whole shower, accents, and hardware included, before you even meet your installation team, as a nearly true-to-life graphic.
Karrels spends her days working with each designer on shower designs, meticulously moving niches, showing the basic look of mosaic tile, and creating the first visual iteration of your shower.
"It is so much fun to help the team create spaces like this while in the sale process," Karrels said. "It is always helpful for the customer to have a better idea of what the end product will be."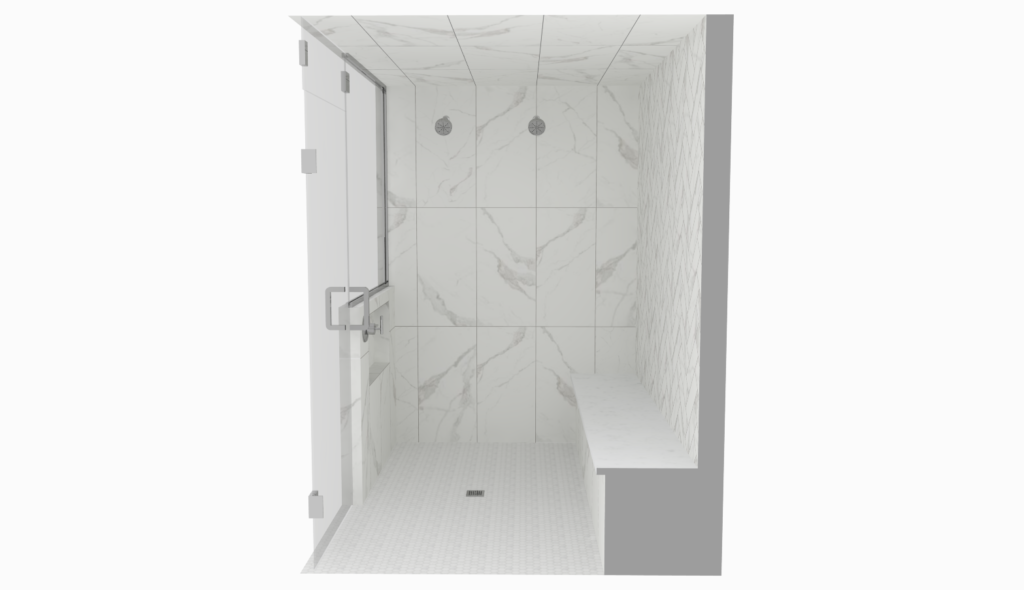 Using design drawing software, Karrels uses her skills to add in the tiles, fixtures, walls, accents, and niches to scale. She can add specific colors and patterns of the thousands of tiles H.J. Martin and Son sells.
Karrels is a graduate of Fox Valley Technical College with a degree in interior design and kitchen and bath design. She has always been drawn to architecture, so she combined it with her interest in interior design and now has a special skill set that has become invaluable to the H.J. Martin and Son team.
The 3-D renderings do more than just give the customer something to look at and get excited about, but they also allow the designer to create a space with the client that will fulfill expectations.
"We are better serving our customers because the guessing of "what will it look like" goes away," Residential Merchandising Manager Allison Weiner said. "We can make tweaks and easy changes before a box of tile is purchased, and that helps everyone in the long run."
Renderings also are given to the installation team, so that way there is a much smaller margin for error. They can see the layout, the colors, and can be fully equipped to translate a printed drawing into a beautiful, useable space.
While the practice of drawing sounds easy, Karrels has to put a lot of effort into each drawing.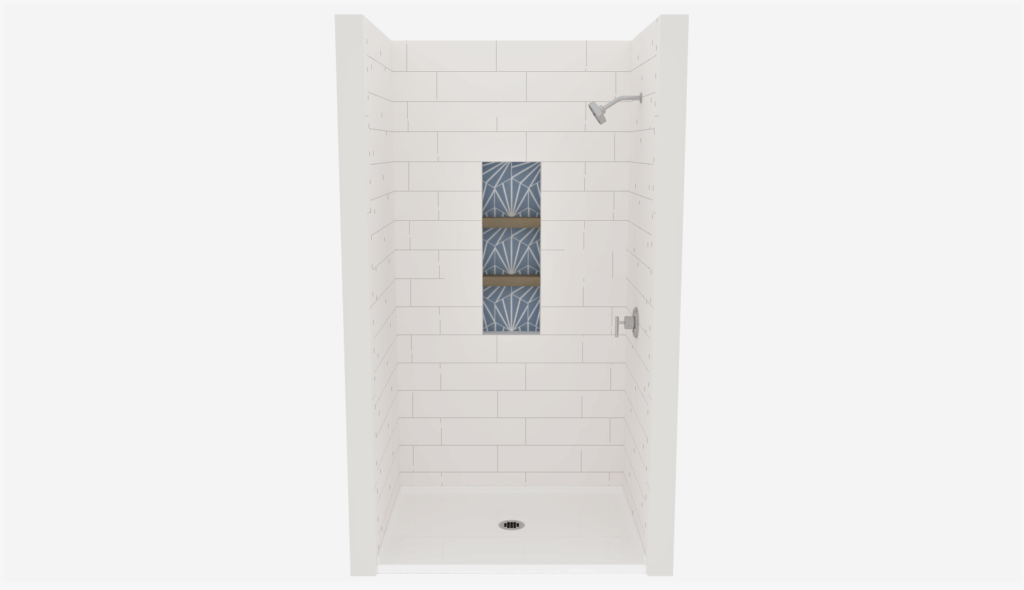 "Some tiles are very small, have intricate patterns, or are in unique cuts," Karrels explained. "I do my best to make every aspect of the tile look exactly what the sample looks like."
Keep in mind that a 3-D rendering is not a promise, but an idea that will give you peace of mind when designing something so special to your home.
To begin your design journey with H.J. Martin and Son and to get your own 3-D drawing of your shower or backsplash, give us a call at 920-494-3461 or visit our website to get inspired at www.hjmartin.com/residential.
Tags: 3-d rendering, Allison Weiner, Emma Karrels, glass shower doors, H.J. Martin and Son, tile showers