H.J. Martin named a 2015 "Top Performer" by Armstrong

Posted on November 10, 2015 by H.J. Martin and Son
H.J. Martin and Son was honored as a "Top Performer" in Armstrong commercial luxury vinyl tile (LVT) at the Starnet 2015 Fall Membership Meeting, held Oct. 22-25 in Boston. The company received recognition for ranking among the top 10 companies nationally for 2015 sales growth in LVT.
Gary VandenLangenberg, vice president of commercial interiors at H.J. Martin, was on hand to accept the award on behalf of the company.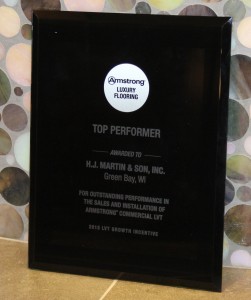 "It's gratifying to see the sales growth generated by our entire commercial team be recognized at such a high-profile event within the commercial flooring industry," says VandenLangenberg. "This honor is shared by everyone from our project coordinators to our installers, who do outstanding work on each and every job."
Starnet is a commercial flooring partnership, comprised of more than 170 locally owned, full-service contractors throughout North America.
Armstrong is a worldwide leader in commercial flooring. Its luxury vinyl tile options offer the perfect blend of beauty, comfort and performance, in a variety of looks.
Tags: Armstrong, Gary VandenLangenberg, H.J. Martin and Son, Luxury Vinyl Tile, LVT, Starnet, Starnet 2015 Fall Membership Meeting