H.J. Martin receives top Starnet award in the Hospitality and Public Space, as well as an honorable mention in Education

Posted on June 1, 2022 by H.J. Martin and Son
The 24th Annual Starnet Design Awards rewarded H.J. Martin and Son top honors in the Hospitality and Public Space category and honorable mention in Education.
The company installed the gold award-winning stunning glass features and specialty flooring at the 125,000-square-foot Resch Expo event and expo center in Green Bay, Wis., in partnership with the general contractor Miron Construction.
Gold category winners were selected by a panel of judges in six categories including corporate, education, healthcare, hospitality and public spaces, mixed-use developments, and Canadian project of the year. The gold category winners were announced on May 17.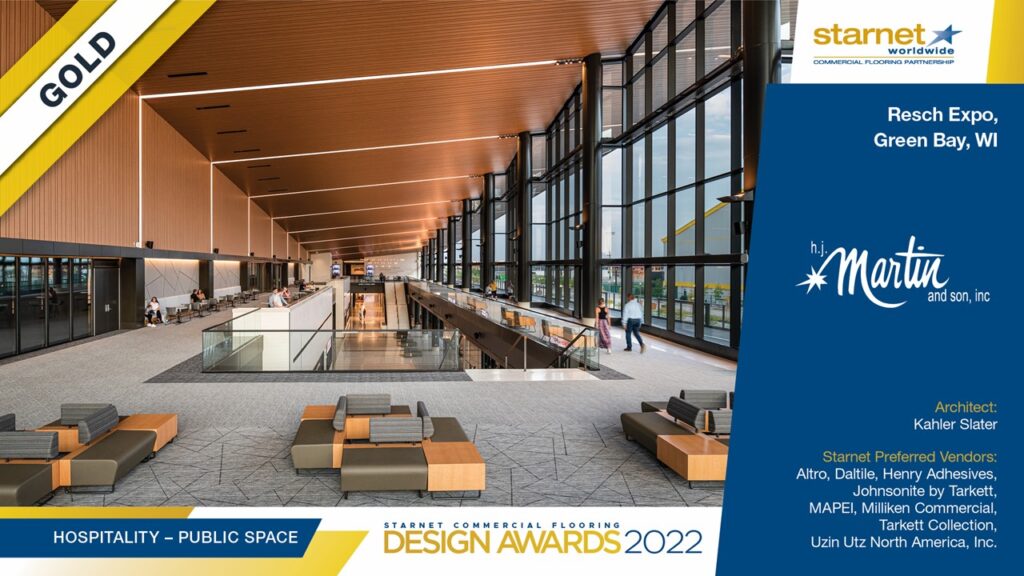 The Starnet Design Awards each year celebrate the partnerships between Starnet members, Starnet preferred vendor partners, architects, and designers, while spotlighting the innovative use of flooring in commercial design.
H.J. Martin and Son will receive a crystal trophy as recognition of its selection as the Gold Winner in the Hospitality and Public Space category of the 2022 Starnet Design Awards. Additionally, Starnet is donating $500 to a local charity, the Boys & Girls Club of Greater Green Bay, selected by H.J. Martin and Son.
Award nominations were judged on three specific criteria:
Creative use of flooring
Flooring design and integration into the overall space
Successful meeting of client objectives
The Resch Expo, which opened in January 2021, is a visual highlight of the Lambeau Field Stadium District, with its flawless glass exterior and beautiful architecture. Visitors and locals both admire the new arena's size, spectacle, and energy. The $93 million structure includes welcoming spaces for tradeshows, meetings, seminars, and concerts, as well as football-related activities.
The carpet tile, ceramic tile, and resilient flooring cover roughly 85,000 square feet. Milliken designed a custom carpet tile exclusively for this project. Daltile, Mapei, Altro, Tarkett Johnsonite, Milliken Carpet Tile, and Uzin were among the Starnet products installed by H.J. Martin and Son. The Veterans Storytelling Wall, a living memorial honoring local veterans, is one of the building's most notable features. The concession stands have white subway tile, as well as a golden AlysEdwards tile on the bar counter wall. In addition, the concession stands, bar area, kitchens, and pantries have heavy-duty, slip-resistant Altro vinyl safety flooring.
"We take great pride in our commercial flooring division's Hospitality work, and we're honored to have the Resch Expo project recognized nationally by Starnet, a flooring industry leader," says Edward Martin, president and CEO of H.J. Martin and Son. "Without the great craftsmanship of our installers, this recognition would not be possible. They deserve all of the credit!"
The company also received an honorable mention in Education for the new 123,400 square-foot, colorful and vibrant innovative learning center building, West De Pere Intermediate School, located in the Green Bay suburbs.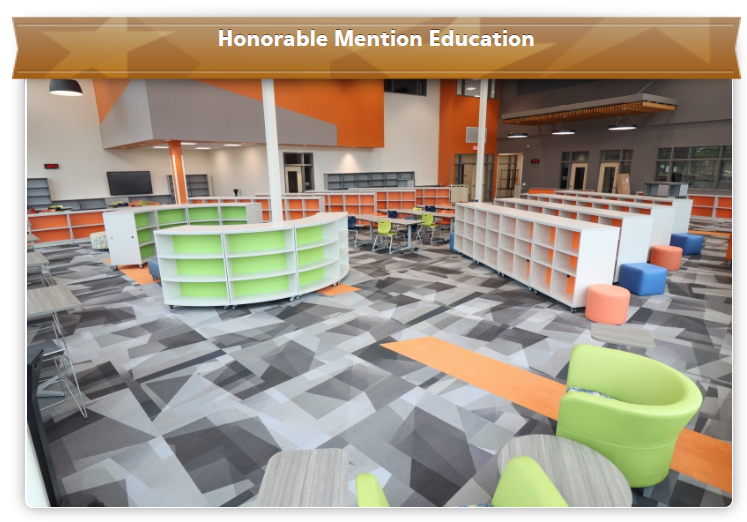 Starnet is the world's largest network of full-service independent flooring contractors.  Its 171 locally owned members in North America are committed to the highest standards of excellence in the industry.  H.J. Martin and Son is one of four Starnet members operating in the state of Wisconsin
An elite panel of architect and designer professionals provided their expertise in judging the 2022 Starnet Design awards. They were:
Tags: Altro, AlysEdwards, award winning hospitality glass and flooring, carpet tile, Cecelia Baumann, ceramic tile, Daltile, Edward Martin, H.J. Martin and Son, Jena Kissinger, John T. McGrath Jr., Mapei, Milliken Carpet Tile, Resch Expo, Roas G. Salazar, Starnet, Starnet Design Awards, Starnet Education Honorable Mention, Starnet Gold Environmental Achievement Award, Starnet Gold Hospitality/Public Space Award, Tarkett Johnsonite, Veterans Storytelling Wall, West De Pere Intermediate School