H.J. Martin and Son Looks Back at 2017

Posted on December 26, 2017 by H.J. Martin and Son
With the end of 2017 nearing and 2018 slowly creeping into our sights here at H.J. Martin and Son, we thought it would be fun to take a look back at all of the cool things we did this year!
We recognize that without our employees, our day-to-day would not be as much fun or as successful. You all make this company a family, and we would not have it any other way!
January 13, 2017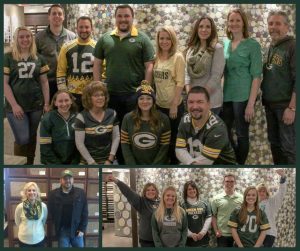 A number of employees dressed up in Green Bay Packer gear a few days before the big postseason game they played, and won, against the Dallas Cowboys with a close 34-31 score. As we are based in Green Bay, we have many Packer fans on staff and more often than not, conversations veer to what is happening with the team! #GoPackGo
February 3, 2017
We have a few different days throughout the year where we have people dress for fun, see above, but we also dress up for good causes. One example of this is Wear Red Day in February to raise awareness for heart disease.
Cardiovascular disease in the United States kills one woman every 80 seconds, but with education and lifestyle changes 80 percent of cardiac events may be prevented (American Heart Association.)
February 26, 2017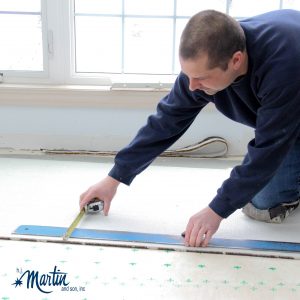 Throughout the year, we like to feature different photos of our employees working at job sites or in the showrooms on our social channels. This is a way to bring more attention to the hard work they do. In February, we gave a little shout out to residential installer, Eric Krause. Eric has been with H.J. for more than 18 years and does amazing work to make people's homes beautiful! We appreciate Eric and our whole installation team for the efforts they take to go above and beyond in their work.
May 4, 2017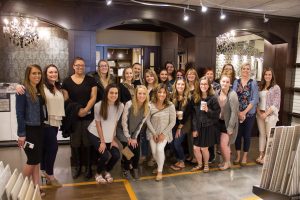 Many of our employees have come from our company's relationships with local schools. To ensure we continue to find the right people for H.J. Martin and Son, we host a number of school visits throughout the year. On May 4, we had a large group of students and teachers from Fox Valley Technical College's Interior Design Department. They visited us at the Green Bay Showroom and learned all about what our team of designers does each day.
May 10, 2017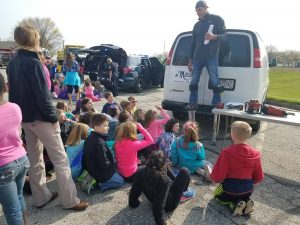 In addition to having on-site visits, we also go out to give presentations at schools and career fairs. On May 10, commercial installer Chuck Callaway gave a presentation about H.J. Martin and Son at Pioneer Elementary School in Green Bay. We truly enjoy networking but also educating others in the community about what we do.
June 10, 2017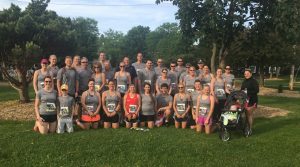 For many years, H.J. Martin and Son employees have been participating in the annual Bellin Run in Green Bay. The 10K race is one of the largest in the area, and last year we had a group take to the streets for the 41st annual run/walk. We may not all run together, but we sure do like seeing those H.J. Martin and Son t-shirts out on the course!
June 18, 2017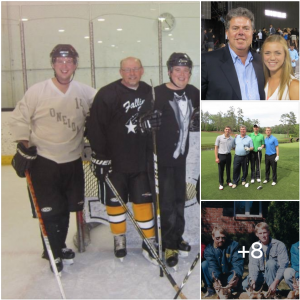 Father's Day is important to just about everyone, and this year we wanted to share how many fathers work at H.J. Martin and Son with their children. Being we are a family-owned business, we know family values are essential to our employees. There are a number of people who are from the same families on our team and we love it! For Father's Day, we were able to get photos of 10 of our dads and their kids who work at H.J. Be sure to click this link to see them all –> Father's Day 2017
August 18, 2017
To help support two families on our team who have children with cancer, we hosted an American Red Cross Blood Drive, looking to help them and many other people in our community. During the two-day blood drive, we collected 78 units of blood which could save up to 234 lives! In addition to donating blood, a number of employees donated treats for donors to snack on. The local Red Cross team was amazing and truly helped us pull off a successful event.
October 6, 2017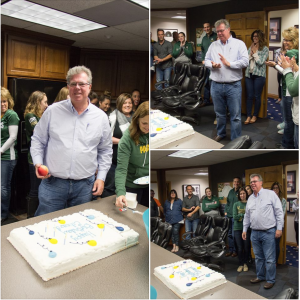 There is one guy at H.J. Martin and Son that keeps us all going. Our CEO and President, Edward, is the man we all are honored to work for. His upbeat attitude, unifying mission and giving heart are why we love him. We celebrated his birthday with cake and apples on October 6!
There were many more events, gatherings, fun and work over the last year at H.J. Martin and Son, and we couldn't be more grateful for the last year. Here is to a wonderful 2018!
Happy New Year!
Tags: 41st Annual Bellin Run, American Heart Association, Bellin Run, Career Fair, City of Green Bay, Designers, Edward Martin, FVTC, Green Bay Packers, H.J. Martin and Son, H.J. Martin Neenah showroom, installers, Neenah, Red Cross, year in review