H.J. Martin and Son Installers Bettered by Armstrong Training

Posted on January 30, 2013 by H.J. Martin and Son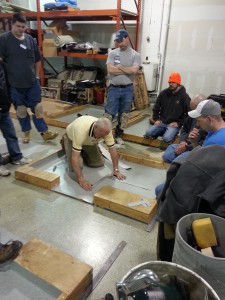 As part of its ongoing commitment to quality and keeping abreast of the latest industry advances, H.J. Martin and Son had eight of its commercial flooring installers undergo two days of specialized training Jan. 29-30 under the direction of a representative of FlorStar and its Armstrong products.
Rich Anderson, an installation specialist from Florstar, provided hands-on, detailed instruction to the members of the H.J. Martin team.  Each attendee's projects included heat weld, chemical weld, seams, flash coving and scribing, and he was required to pass with at least an 80-percent grade.
Upon completion of the training, each installer will receive an Armstrong certification, according to Gary Vandenlangenberg, commercial installation coordinator at H.J. Martin and Son.  "The Armstrong certification is a benefit to the end-user, our customer," says Vandenlangenberg.  "Some projects even require it."
Much of the first day was spent on three-wall, direct-scribe work, often needed for any project at a hospital or any medical facility as a means of preventing of bacteria at the flooring base.  H.J. Martin has completed such work at every hospital in Green Bay, Wis., and it has two current projects at medical facilities in Oshkosh, Wis., along with at the Medical College of Wisconsin in Milwaukee.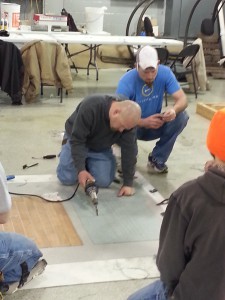 "The training is valuable because you're able to add little tricks to the things you already know and do," says Mark Vandenavond, an H.J. Martin flooring installer of 26 years, including the past 14 in the commercial division.
Anderson provides installation training across the Midwest, and he came away impressed with the H.J. Martin staff.  "All of their people are top-flight installers," says Anderson.  "They are very good."
H.J. Martin and Son specializes in a variety of commercial flooring options, including vinyl, laminate, carpet, hardwood, ceramic tile and natural stone, and believes in continued education throughout the company.
Tags: Armstrong, Commercial, Flooring, FlorStar, HJ Martin and Son, Installation, Training