Environmental stewardship recognized by Starnet

Posted on April 28, 2016 by H.J. Martin and Son
H.J. Martin and Son was recognized for its environmental stewardship by Starnet, a national commercial flooring association, at an awards ceremony April 15.  The event was held in conjunction with Starnet's annual meeting, April 14-16 in Miami.
Representatives of H.J. Martin and Son accepting the Silver Starnet Environmental Stewardship Award included CEO Edward Martin, fourth-generation executives David Martin and Joe Martin, along with Commercial Project Coordinator Rachel Weber.
Starnet annually recognizes member companies who undertake initiatives "to preserve our resources so future generations can meet theirs too."  Judging is based in part on consistency in helping to bring "a greater knowledge and awareness for a healthier planet."  H.J. Martin and Son similarly was honored by Starnet in 2015.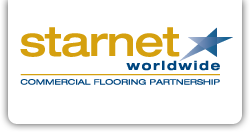 Among the environmental initiatives of H.J. Martin and Son were a continued partnership with Carpet America Recovery Effort (CARE), which saw the company recycle 56,590 square feet, weighing more than 372 thousand pounds, of used carpet and pad.
The company also began an affiliation with the Green Gifts program of wireless provider Cellcom.  Early in 2016, H.J. Martin and Son delivered 118 total cell phones (plus cases and accessories) to Cellcom, which donates proceeds from its cell phone recycling program to area organizations and programs dedicated to environmental sustainability.
Additionally in 2015, H.J. Martin and Son began the installation of LED lights on its showroom floors, a process which will be completed in 2016, and implemented an electronic time-card system in four company divisions.
From a conservation standpoint, virtually all company accounting reports and postings are saved to a PDF format and stored on internal servers, resulting in a huge reduction of paper use.
"We thank Starnet for recognizing our commitment to sustainability," says Edward Martin.  "We couldn't accomplish what we do for the environment without the diligence of both our employees and customers.  They should be commended."
Starnet represents more than 170 locally owned, full-service flooring contractors throughout North America.  H.J. Martin and Son is one of three Starnet members in Wisconsin.
(Top photo, L-R: Carlton Billingsley, Starnet Environmental Issues Committee Chair; Joe Martin, David Martin, Edward Martin and Rachel Weber of H.J. Martin and Son; Cheryl Acierno, Chair of the Starnet Board of Directors)
Tags: Carlton Billingsley, Carpet One Recovery Effort, Cellcom Green Gifts program, Cheryl Acierno, David Martin, Edward Martin, environmental stewardship, Joe Martin, Rachel Weber, Starnet, Starnet Environmental Stewardship Award, sustainability