David Martin provides pulse of U.S. small business on CNBC
Posted on August 12, 2016 by H.J. Martin and Son
David Martin, a fourth-generation leader at H.J. Martin and Son, appeared on the Aug. 8, 2016, edition of "Power Lunch" on national cable business channel CNBC.  Martin provided his perspective on the pulse of small business in the country as part of a three-person panel on the jobs outlook.
Host Brian Sullivan asked Martin if the family owned company currently is able to find enough workers to meet the growing demand for its business.  Martin acknowledged difficulties in that area, then shared the steps that H.J. Martin and Son has taken in order to help alleviate employee shortages.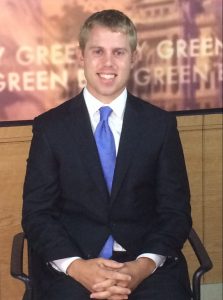 "Hiring is definitely a challenge," Martin told Sullivan.  "Our installers are the heartbeat of the company, so it's definitely something we're focused on.  What we've been doing to combat that, the labor shortage, is partnering with NWTC, which is a local tech college, and Fox Valley Tech.
"We've had great success with hiring veterans through our local veterans agency.  We've partnered with the chamber of commerce and their youth apprenticeship program.  We have a culture of low turnover, so when someone enters the company we want them on a career path.  We don't want them to get a job, and then we have a layoff.  These are long-term jobs we're offering."
The discussion then turned to what factors currently are holding back the U.S. economy.  Martin mentioned the unknowns related to government and shared his belief that unity would go a long way towards economic growth.  "Everyone needs to come together," Martin said.
Martin was joined in the segment by Marc Schupan, CEO of Schupan and Sons in Kalamazoo, Mich., and by David Greiner, president of Greiner Buick GMC in Los Angeles.
For Martin, this marked the third time he has been asked by CNBC to appear on one of its business programs.  His most recent appearance can be seen HERE.
Tags: Brian Sullivan, CNBC Power Lunch, David Greiner, David Martin, family owned company, Greiner Buick GMC, Marc Schupan, Schupan and Sons, small business