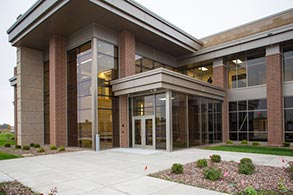 Case Study
Foth New Corporate Headquarters
Project Divisions: Flooring & Ceramic Tile, Glass & Glazing, Walls & Ceilings
Location: De Pere, Wis.
Completion Date: December, 2013
Project Description:
Foth is a national engineering and consulting firm founded in 1938. With continued growth, the company decided to replace its long-time headquarters in Green Bay, Wis., with a new, $21 million building in nearby De Pere, Wis., situated prominently along Interstate Highway 41.
As part of the relocation, Foth hoped to place roughly half of its 600 employees in one location, enhancing collaboration and efficiency. The purpose-built building also was designed to support the company's expanding operational requirements.
Ground was broken on the 100,000-square-foot facility in September 2012. Three divisions of H.J. Martin and Son – Walls & Ceilings, Glass & Glazing, and Flooring & Ceramic Tile – participated in this high-visibility project.
The Walls & Ceilings division of H.J. Martin and Son handled interior wall framing and furring, sound insulation, hanging of gypsum board and taping/finishing for approximately 60 single offices and 15 conference/training rooms, along with areas designated for future use.
H.J. Martin and Son had an average of 10 Walls & Ceilings crew members on site for six months to meet a challenging timeline for completion.
Unique aspects of the company's work on this project included pre-fabrication of Glass Fiber Reinforced Gypsum (GFRG) Column Covers, installation of lead-lined gypsum board in a hot lab, and utilization of cement board and tile backer board in toilet rooms.
H.J. Martin and Son successfully met the challenge of a circular opening in the middle of the building, which saw the soffits and walls follow this opening. Special framing and a tricky wall layout created the radius.
Another special characteristic of this project was the use of Hilti's Smoke and Sound spray above finished ceilings by the Walls & Ceilings team. This cost-effective solution provides excellent sound- and air-barrier characteristics, limiting sound transmission and restricting smoke migration. The one-step application was made to joints at the top of the walls as well as to the joints in the gypsum board above the ceiling.
An aggressive schedule, with just three months to install all exterior windows and enclose the building, also presented a challenge to the Glass & Glazing division.  Four Kawneer curtain wall systems – two on the front and two larger ones on the back – were installed, along with a storefront system on the structure's front-facing side.
Approximately 10,000 square feet of glass was installed on this project. Much of it was Low-E, high-performance glass with a bronze tint.
H.J. Martin and Son also installed a skylight from Super Sky as part of its work on the project.
Eight members of the company's Glass & Glazing division were on site from April 2013 through the project's completion in December of that year.
The Commercial Flooring division of H.J. Martin and Son installed all flooring and ceramic-tile products within the new building, which featured a contemporary look throughout.
An expansive lobby encased by two-story windows allows widespread natural light throughout and is the first impression for visitors to Foth. While the natural sunlight accentuates the flooring, it also highlights any installation flaws as well.
A precision installation was required of H.J. Martin and Son in order to achieve the clean lines needed. The company installed Crossville Shades 1×3 Mosaics, along with Crossville Shades 6×24 large-format tile, in three colors.
Extending the stone theme, Daltile Island Perfect Pebble tile was installed as a complement to the building's primary carpet selection, Interface carpet tile. Almost 8,500 square yards of Interface, in three styles, was installed throughout the office space.
In several distinctive areas that are silhouetted by a skylight, Atlas Percussion broadloom was installed as the featured flooring product.
Other ceramic tile products included on this project were Daltile City View (1,900 SF), Daltile Glass Reflections (290 SF), American Olean St. Germain (1,900 SF, in two sizes and various colors) and Florida Tile Steller (2,850 SF, in various sizes).
Two types of hardwood were installed on this project: 427 square feet of Canadian Maple and 44 square feet of Jatoba.
Sustainability was important to Foth in designing and executing this project, and H.J. Martin and Son participated in several aspects related to environmental stewardship.
Construction materials, including flooring, contained recycled content. Additionally, H.J. Martin and Son utilized tactile, not glue, as an adhesive product. Low-emitting materials and adhesive were used to maximize indoor air quality.
Tinted windows and shade controls were sustainable characteristics as the project endeavored to take advantage of daylighting wherever possible.
---
Navigate Featured Projects
Connect With A Specialist