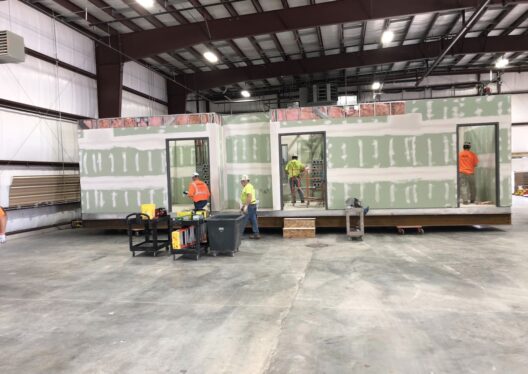 Case Study
STAAT Mod™ Prefabricated Modular Solutions
Project Divisions: Flooring & Ceramic Tile, Walls & Ceilings
Location: Maryland and Georgia
Completion Date: October, 2020
Project Description:
The STAAT Mod™ – Strategic, Temporary, Acuity-Adaptable, Treatment – was developed early in 2020 as a critical-care solution to the shortage of hospital beds due to the coronavirus pandemic. National design firm HGA partnered with The Boldt Company, a leader in healthcare construction management, to create prefabricated modular units for deployment in environments ranging from convention centers to free-standing hospital expansions.
Configurations of the STAAT Mod™ include a two-room isolation unit designed for use in an interior shelter; an eight-bed unit of critical-care isolation rooms, consisting of four, two-bed modules designed to connect to a medical facility; and a 12-bed unit of negative-pressure open bays, consisting of four, three-bed open-bay modules connected to a central support spine.
The units provide flexibility to add capacity and/or re-deploy pods to sites of greater need, while maintaining the high standards for safety and privacy required in healthcare settings.
H.J. Martin and Son participated in two separate STAAT Mod™ projects: one in Maryland, the other in Georgia. In each case, a tight timeline was met successfully by increased company staffing, after-hours and weekend work, and effectively functioning alongside other sub-contractors.
In Maryland, the mobile critical-care units entailed six brand-new buildings, with pods inside the buildings – each going to a different location.
The Walls & Ceilings division handled drywall and taping, along with acoustical ceilings, over a three-month period starting in April 2020.
The six-person crew successfully overcame the challenge of rapid completion and turnover to other tradesmen. The drywall installers and tapers from H.J. Martin and Son would hang 70-80 sheets each day before noon, allowing other divisions to do their work in the afternoon.
Each pod was finished in two days. On Day 1, drywall work was done in the morning, followed by tape and coating during the afternoon. On Day 2, a second coat was applied, with extra fans and equipment utilized to dry materials quickly.
In all, 2,400 sheets of 4×12, mold-resistant drywall XP were installed on the Maryland project.
Following the same tight timeline, a company acoustical ceiling installer put 15,000 square feet of USG tile and grid in place.
A six-person crew of flooring installers from H.J. Martin and Son spent 10 weeks working on the Maryland pods. The installation included roughly 2,500 square yards of polyfloor sheet vinyl, luxury vinyl tile (LVT) and walk-off carpet tile.
The Georgia-based project was completed with an even faster timeline than the Maryland pods. Overnight and weekend work, along with assembly-line style installations, were utilized to finish the project at a quicker pace.
Beginning in August 2020, the Georgia work entailed an addition to an existing hospital. Four pods were constructed each day, with a separate crew putting everything together on site.
An eight-person team of company flooring installers put approximately 5,900 yards of Mannington sheet vinyl, plus 1,900 square feet of Amtico LVT and Tarkett vinyl base, in place.
In Georgia, the project required a crew of 2-3 ceiling installers. Nearly 25,000 square feet of USG tile and grid were used on the installation.
The Walls & Ceilings division successfully met the challenge of a high number of in-progress changes in comparison to the ceilings work in Maryland.
---
Navigate Featured Projects
Connect With A Specialist