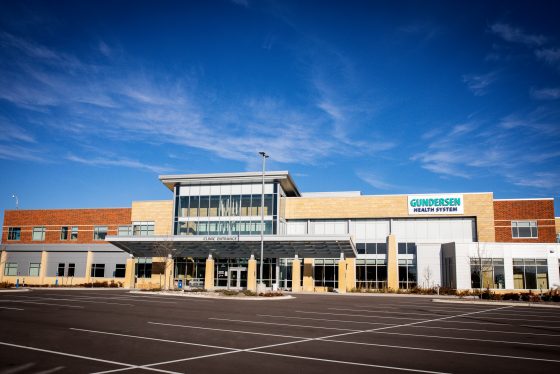 Case Study
Gundersen Health System-Tomah Clinic
Project Divisions: Flooring & Ceramic Tile, Walls & Ceilings
Location: Tomah, Wis.
Completion Date: August, 2019
Project Description:
Gundersen Health System is a physician-led, non-profit healthcare network that serves 21 counties in western Wisconsin, northeastern Iowa and southeastern Minnesota. Headquartered in La Crosse, Wis., and employing more than 7,500, the system includes multi-specialty group medical practices, a teaching hospital, regional community clinics, behavioral health services, vision centers, pharmacies, and air and ground ambulances.
In late 2017, Gundersen announced plans to build a two-story medical facility adjacent to the new Tomah Memorial Hospital. At 77,000 square feet, the new, $22-million structure would be more than three times the size of the building it would replace, constructed in 1995.
The new clinic allows patients to receive services – including medical, orthopedics, general surgery, imaging, lab, vision, behavioral health, orthodontics, oral surgery, renal dialysis and assorted specialty services – at a single location. One of its biggest additions is the Gundersen Comprehensive Cancer Center, where those with cancer can receive most of their medical and oncology services. Outside, its campus features trails and gardens designed to stress healing.
The Walls & Ceilings division of H.J. Martin and Son handled the facility's extensive steel stud and drywall work. As with any medical building, it included lead-lined walls to provide shielding from the high-level gamma-ray and X-ray radiation utilized in diagnostic imaging rooms.
Another aspect of the work was drywall soffits, used to conceal plumbing pipes, heating/cooling ducts and other mechanical items. Similarly, the installation included gypsum column covers in the main lobby, waiting areas and corridors.
The H.J. Martin and Son Commercial Flooring division also took part in this large-scale project. It installed more than a half-dozen types of carpet tile, along with luxury vinyl tile (LVT), resilient flooring and ceramic tile.
The clinic's first floor featured a wide variety of room types, necessitating the installation of multiple flooring surfaces. The second-floor Cancer Center was more static in its flooring and tile requirements.
---
Navigate Featured Projects
Connect With A Specialist