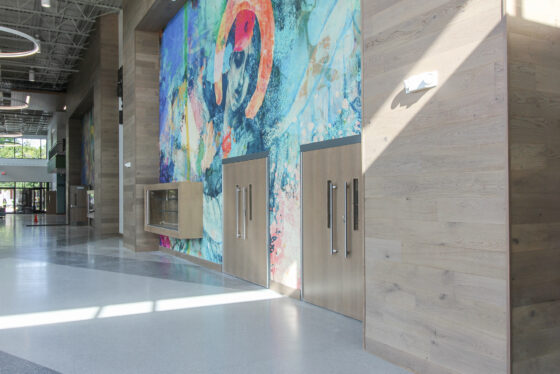 Case Study
Notre Dame of De Pere
Project Divisions: Walls & Ceilings
Location: De Pere, Wis.
Completion Date: August, 2020
Project Description:
Notre Dame of De Pere is the new Catholic elementary school in the GRACE (Green Bay Area Catholic Education) system, combining the elementary and middle school programs of St. Francis Xavier and St. Mary's into one facility.
The new building spans more than 90,000 square feet and is a result of a $27 million gift from Jim and Miriam Mulva. 
The H.J. Martin and Son Walls & Ceilings division began work on the exterior steel stud framing in December 2019 and finished interior drywall work in May of 2020. General contractor Miron Construction oversaw the full building between August 2019-September 2020. 
Approximately 31,000 square feet of exterior framing and sheathing was installed and approximately 175,000 square feet of drywall was installed inside the school. The crew from H.J. Martin and Son varied between 14-18 installers each week, with 22 at the peak of construction. 
A unique aspect of the installation includes a number of radiused soffits and ceilings constructed with metal framing. 
The majority of the exterior work was completed during the winter months, but productivity was managed sufficiently by Foreman Adam Woodford. H.J. Martin and Son coordinated workers on multiple levels on the inside and outside simultaneously to complete the project on time. All trades worked well together to perform the work in tight time constraints and within new COVID-19 safety standards.
---
Navigate Featured Projects
Connect With A Specialist