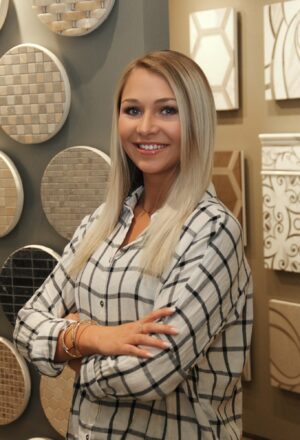 To me, great design realizes the potential of any space, whether it may be a remodel or a new home.
I help turn customers' interior design inspirations and dreams into a reality. By balancing colors and textures, together, we can create a space that reflects your personality and match what best suits your needs. I graduated from the Milwaukee Institute of Art and Design with a bachelor's degree in Interior Architecture + Design and a minor in furniture design and sustainability design. Ever since I was young, I have had a passion for designing and the arts in general. As a designer, I take each project personally as if the client were my own family member or close friend. I always aim to create beautiful spaces that best fit the customers' expectations by accommodating to a variety of budgets, styles, and requirements.
Personal Facts
Travels frequently and loves exploring the outdoors.
Enjoys boating and going up north on the weekends to ride on the trails in the winter and summer.
Owns three cats: Niko, Juno and Seneca.
View My Residential Projects View My Commercial Projects Contact Me Green Bay Showroom