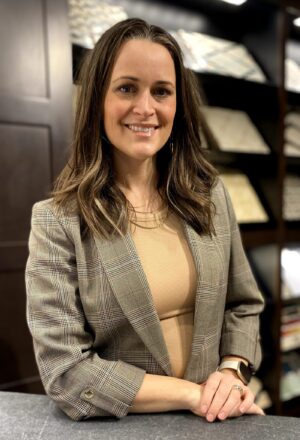 We start with a customer's vision and end with a home that is not only functional but beautiful. I like to think you walk away with a new friend at the end of the process as well.
My taste and design style are to use timeless and natural products. To me, mother nature did it best and I don't like to mess with a good thing. My goal is to take a unique approach and try to incorporate those natural elements while also staying within any budget. I have a passion for finding the latest and greatest products as the industry evolves into the newest design trends. So, when you come in, you are seeing something fresh and interesting that I can help incorporate into your home. I look forward to working with you on your next project to make any space your dream home.
Personal Facts
Bachelor's degree in Communications from the University of Wisconsin-Green Bay as well as a master's degree in Leadership in Student Affairs from the University of St. Thomas.
Worked in higher education as an Academic Advisor and Admissions Advisor for 6 years.
Grew up in Door County and when she's not in Green Bay you can either find her in Door County with her family or in Crandon with her husband's family.
True passion for design was discovered after watching and helping her husband flip houses.