Packers Heritage Trail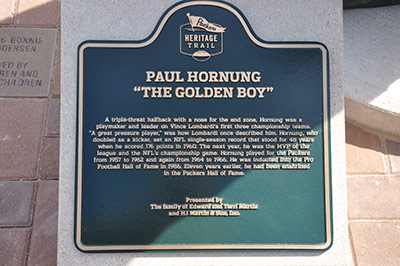 A member of the Pro Football Hall of Fame, Paul Hornung was a key member of five Packers championship teams in the 1960s, not to mention being one of its most recognizable and colorful players.
"I'm very proud of having a statue downtown," Hornung said in the days leading up to the plaza dedication. "I'd have to say that this is one of the great honors ever bestowed on me."
Designed as a self-guided walking tour, the Packers Heritage Trail was initiated in 2012 by long-time Wisconsin sportswriter Cliff Christl as a means of capturing the first 50 years (1919-1968) of the history of the Green Bay Packers. The history is presented on 22 bronze, commemorative plaques, located at sites throughout Green Bay (primarily downtown) that played a role in team annals.
Included on the Packers Heritage Trail is everything from the team's birthplace, the birthplace home of team founder 'Curly' Lambeau, the local hotel where legendary Vince Lombardi was introduced as the team's head coach and the former train depots where fans once celebrated title-clinching victories. City Stadium, the Packers' home field from 1925-56, is a signature attraction of the trail.
Funded solely through private donations and sponsorships, gifts like that of H.J. Martin and Son have been critical to the viability of the Packers Heritage Trail. Underwriting the Hornung statue was a natural, the Martin family having enjoyed a personal relationship with the football star for over 50 years.
"It's good for the community, and it's good for downtown," said H.J. Martin CEO Edward Martin in making the contribution. "Green Bay is a special place – it's perfect to have the Packers recognized in this way because this story is unduplicated anywhere in the world."
Along with Hornung, statues of franchise co-founder George Whitney Calhoun, backs Johnny 'Blood' McNally and Clarke Hinkle, and quarterback Bart Starr are part of the Packers Heritage Trail Plaza, helping to link the team to its community for years to come.