ASPIRO Pontoon Boat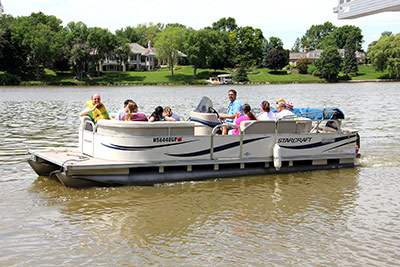 H.J. Martin and Son CEO Edward Martin had learned that it was the dream of ASPIRO to have a boat as an additional recreation option for its consumers. Wanting to give that dream to the individuals at ASPIRO, Martin moved ahead to acquire the pontoon for the organization. More than a decade later, what once was only a dream now is a reality, day after day, week after week, during the glorious Wisconsin summer months.
A Starcraft Marine Holiday Classic 240, the pontoon is graciously docked at a home on the east side of the Fox River in De Pere, Wis. Anywhere from 10-20 ASPIRO consumers are transported to the private dock, which can accommodate those with ambulatory issues, for each boat outing.
ASPIRO holds some all-day boat outings, where the organization brings a cooler full of food and beverages for a midday picnic, and once each August the pontoon is trailered and driven 43 miles to Whispering Pines Resort in Shawano, Wis. There, ASPIRO consumers utilize the boat on Shawano Lake for activities which also include fishing.
"This is the perfect boat for our organization," says Joe Stocks, assistant recreation manager at ASPIRO. "We talk about this all of the time – riding on a pontoon is an opportunity that our consumers otherwise would not get. It is something that many of them have never experienced before."
ASPIRO estimates that of the 250 consumers at its Dousman Street location, roughly 75-80 percent will take part in at least one of the 30-plus pontoon boat outings held each summer.