If Walls Could Talk,

Ours Would Speak Volumes

HJ Martin & Son is a leader in quality construction of commercial metal stud framing, drywall installation, drywall finishing, acoustical ceilings, specialty ceilings, operable partitions and acoustical wall panels in Wisconsin and the Midwest. Established in 1983 to complement our commercial divisions, the Walls and Ceilings team has more than 175 collective years in experience in walls and ceilings installation.
Potawatomi Bingo & Casino | Milwaukee, WI

Alliant Energy Center | Madison, WI

Apple Creek YMCA | Appleton, WI

Associated Bank | Green Bay, WI

Bellin Cancer Center | Green Bay, WI

Georgia Pacific Building #4 | Green Bay, WI

Hole in the Wall Casino | Danbury, WI

Menominee Casino | Keshena, WI

St. Mary's Hospital | Green Bay, WI

Wind River Job Corps Center | Riverton, WY

No One Takes On An Interior

Project With More Pride

Whether it's a standard wall or a more intricate, curved wall or tiered soffit, our crews have the experience to maintain the design integrity of every project. We accomplish this by integrating our experts in estimating and project management, and by providing designated teams to complete all projects with speed and efficiency, on time and within budget. We get the job done and guarantee that it's done right.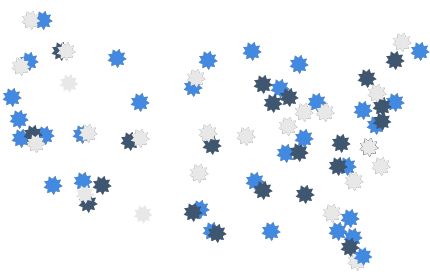 Experienced Crews Across The Country
With more than 100 members on our crew and our experience working in medical facilities, retail, office buildings, and schools, we ensure quality construction and a clean installation of interior spaces large or small. Closely managed and supervised, all of our projects are self-performed by our own workforce. Our fully trained team rises to the challenge of complex and intricate projects, so you can be sure your results will have the quality and attention to detail that has become the trademark of HJ Martin and Son.
Ready To Take On Your Unique Project
We welcome complex and challenging projects with no project too large or small for our skilled craftsmen.
Exterior cold-formed metal framed walls, soffits and canopies (load and non-load bearing)
Interior metal framing
Soffit framing, including radius and curved
Shaft walls
Operable partitions
Drywall ceilings

Drywall finishing and texturing
Acoustical ceilings, specialty ceilings and acoustical wall panels
Installation of hollow metal frames and doors
Wood blocking/backing and rough carpentry
Insulation - thermal, sound and rigid
Firesafing: top of wall and slab edge