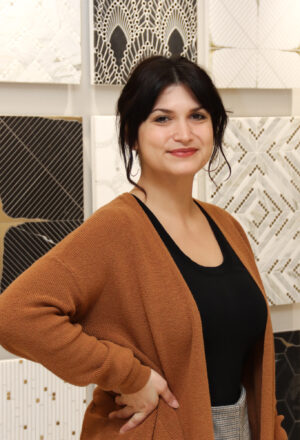 What I love most about design is that while there are fundamental guidelines, there are no real rules- so the possibilities are limitless.
I found my passion for design while working as an account manager in commercial furniture. The best days were the ones I spent collaborating with the designers, so I took the leap right into design school. I find beauty in all genres of design, but I find I gravitate toward classic elegance. When you pair that with a quirky pattern or unusual painting you get a space that is attractive but doesn't take itself too seriously. If you can dream it, we can make it happen. Because design is so personal, the most gratifying part of working with clients is helping them find finishes that are reflective of their personalities and lifestyle. "This is so me" is the most rewarding thing to hear. While Architectural Digest is my favorite source of printed inspiration, I get the most inspired while visiting restaurants, hotels, art museums, etc.
Personal Facts
Has an associates degree in Business & Entrepreneurship from NWTC & Associates degree in Interior Design from FVTC.
Michael Jordan (MVP) and Bethany share a birthday – 29 years apart.
Loves to cook.