Remodeling with Creativity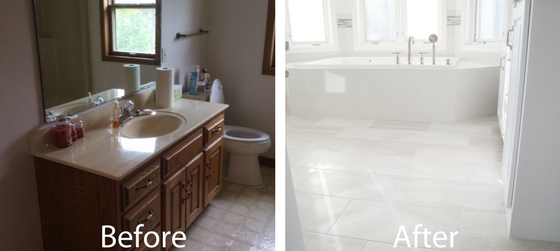 Posted on April 28, 2017 by Melissa Malcore
Let's say you wanted to pair modern, Asian-inspired, clean, bright white interiors with a secluded country home. How would you design it?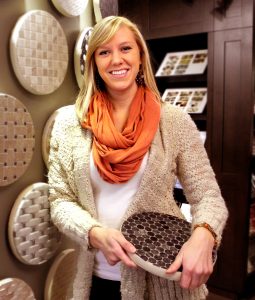 One of the H.J. Martin and Son designers, Melissa Malcore, went to work to pair these two themes in a recent home remodel project. With a lot of enthusiasm, and an injection of creativity, the end results are simply stunning.
The client worked closely with builder Jerry Selner of Selner Countryside Builders, and walked into the Green Bay showroom with a few ideas. Specifically, the customer wanted his home to have a lot of bright whites, in tile, carpeting and more. He had spent time traveling for business in Asia, where he saw a lot of residential design based in whites, and wanted to mimic the theme in his own home.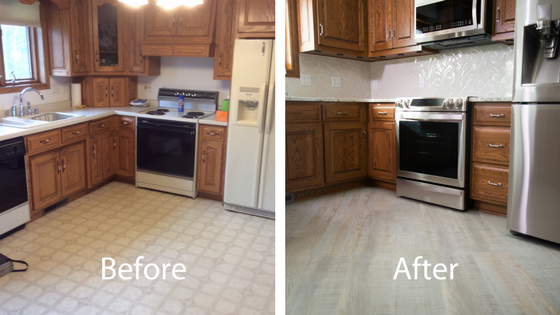 Luckily, the client was very flexible, and allowed for Melissa to use a lot of her own imagination in this country home. Along with helping design three bathrooms, a new fireplace, new flooring and carpet and a kitchen backsplash, Melissa was able to help him decide on paint colors, granite for the countertops and other important design elements.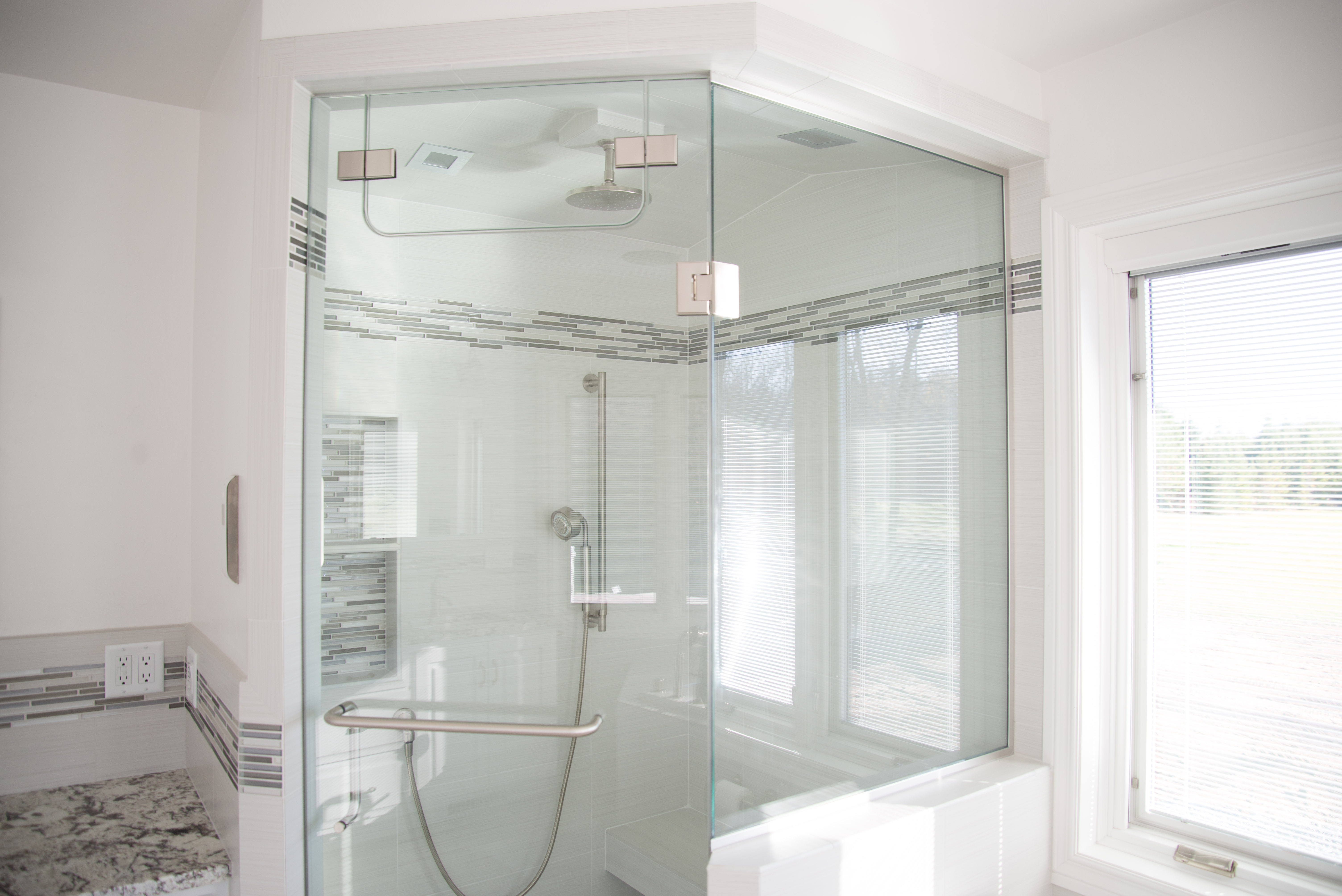 The master bathroom is one of the home's centerpieces. The room features a large bathtub surrounded by beautiful tile. The walk-in shower features a custom glass door and floor to ceiling tile.
A picture window allows a lot of beautiful light into the mostly white room, giving it a clean, airy and Asian-feel, which the client wanted.
To design this and the other two bathrooms in the house, Melissa relied heavily on in-depth CAD drawings, taking space for outlets, cabinets and towel bars into account. Physical mood boards also allowed Melissa and the client to create exactly what he was envisioning.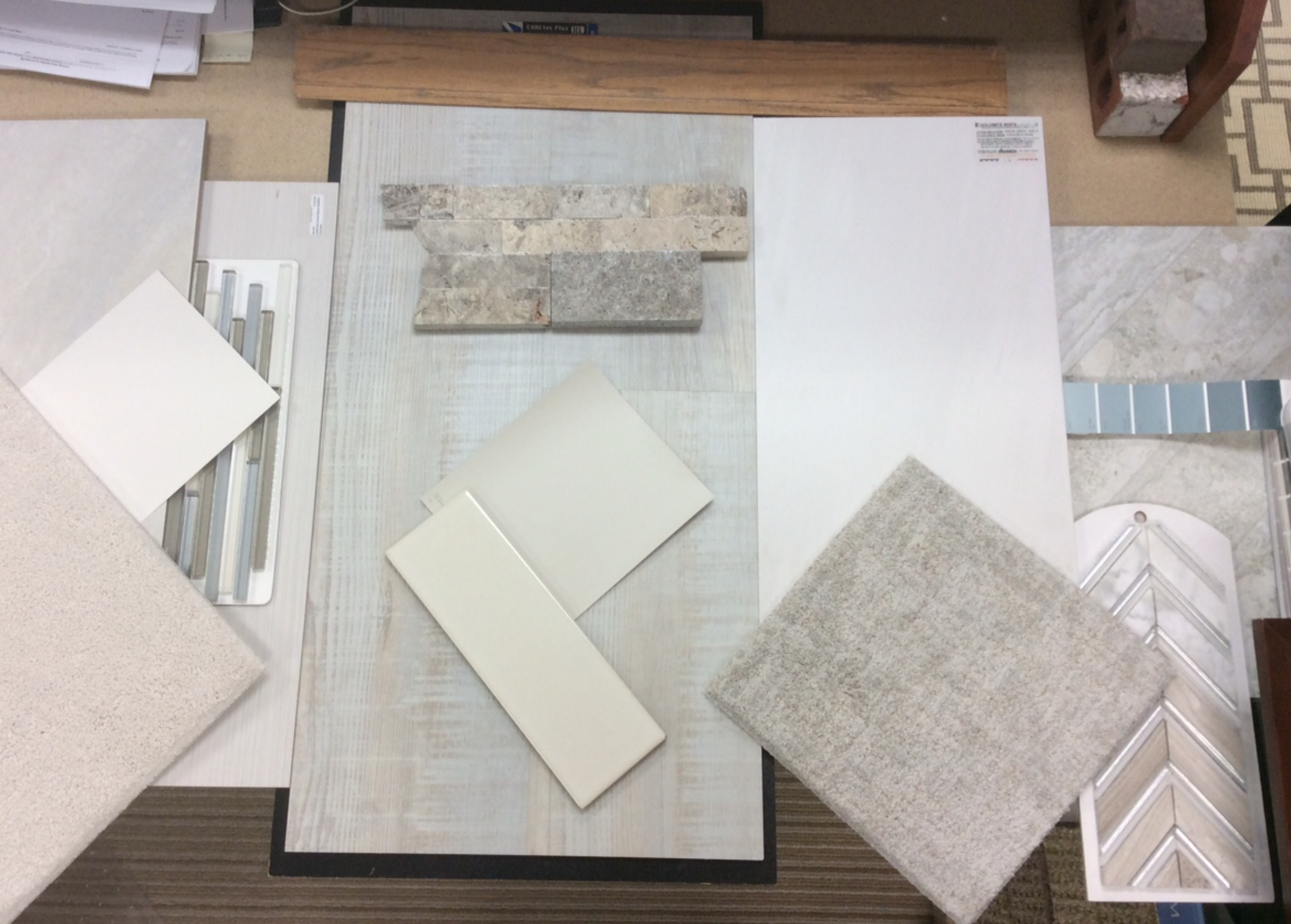 One of our talented installers, Ben was tasked with making sure every piece of tile was in place.
"He's an artist and I trust him to make necessary changes and tweaks to the installation, while also keeping true to the design elements," Melissa said of Ben's work.
A stunning tiled shower in the master bathroom features a unique glass door the H.J. team worked hard on designing and installing. The shower tile matches that of the large bathtub and also pulls in a simple mosaic tile accent that runs throughout the bathroom.
In the master bedroom, the homeowner wanted the most lush and soft carpet we could find, and Melissa was able to pair him up with a Karastan Smart Strand Silk in white. The fibers in this carpet are stain resistant, as it has a special protective agent that doesn't allow liquids to soak in.
In the living room, there is a large fireplace that featured fieldstone from floor to ceiling. Considering the bright and airy look the home was taking on, it was decided to change the look to feature a gray ledgerstone with a rough split-face.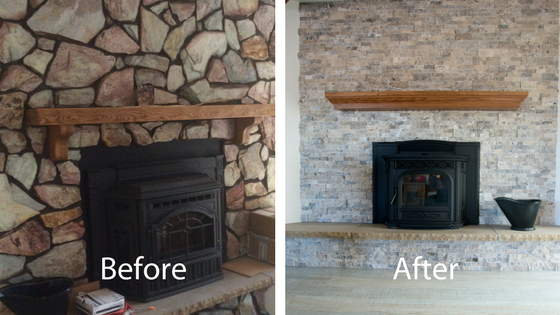 Watch a time lapse video of the fireplace natural stone installation here:
Along with updates to the living room floor and kitchen backsplash, a new vanity splash was installed in one of the guest bathrooms. This tile was framed with a chevron design and was pulled out into the hallway. There was a lot of beveling done by hand to make the tile look as lovely as it does.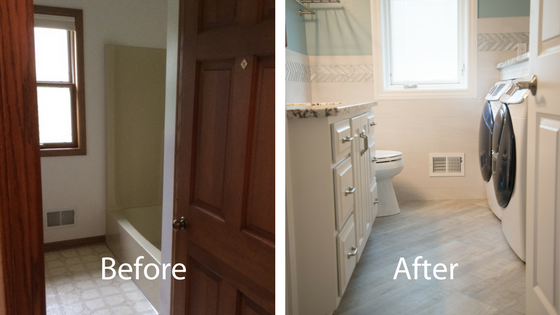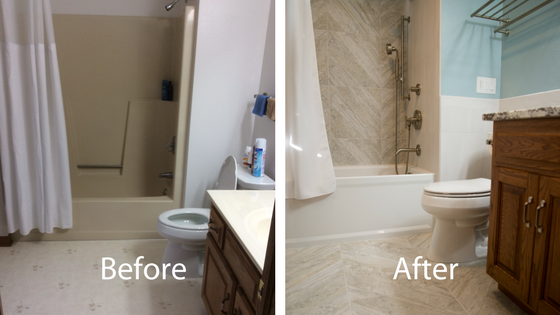 This project started in early Spring 2016 and was completed in October of the same year.
"This was one of my favorite projects," Melissa said. "It's so fun to remodel a space that is really simple and kind of outdated and make it as open and as beautiful as it is!"
To see more of H.J. Martin and Son's residential projects, visit our online gallery or showrooms in Green Bay or the Fox Valley.
Tags: Asian inspired design, contemporary home remodel, H.J. Martin and Son, Home remodel, Interior Design, Melissa Malcore, modern home remodel, Remodel, remodeling, selner countryside builders, timelapse, video