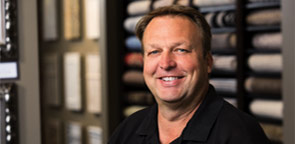 Roger has been a part of the H.J. Martin and Son team for more than 30 years. He first joined the company in 1982 as an installer, before transitioning to the role of project manager in 1987. In 2012, Roger assumed his current position, where he continues and always has lead the commercial flooring division in sales.
Roger started with H.J. Martin and Son as part of the company's first out-of-state commercial flooring job, performing the ceramic and carpet installation at the Embassy Suites Hotel in Miami, Fla. That type of installation and product knowledge gives Roger an edge when collaborating with the H.J. Martin and Son estimating team on key projects and when he oversees work. Roger also typically is the company representative to meet with vendors and to attend trade shows with the goal of staying up to date on the latest industry information, including trends, moisture mitigation and installation standards.
Roger has been involved with H.J. Martin and Son's participation in the past three Lambeau Field renovation projects, the award-winning Union South at the University of Wisconsin-Madison in 2011, and multiple flooring jobs at Bergstrom auto dealerships throughout Wisconsin, among other work.
As one of the most senior current employees, Roger remembers the days when H.J. Martin and Son had just one screw gun, a few delivery trucks and a small warehouse. Having never lost sight of those origins, he maintains a can-do attitude that always puts the customer first.