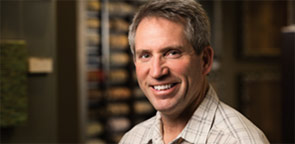 Lon joined H.J. Martin and Son in 1988 and has worked in builder sales throughout his quarter-century with the company. Along with being the highest producing residential flooring salesperson at H.J. Martin and Son, Lon oversees a support team of four staff members to assist with the bid and selection process, measurements and quick apartment replacements.
Lon specializes in custom homes, senior-living facilities, multi-family units, high-rise condominiums and main-street commercial projects. Lon has utilized his strong relationships within the building industry to expand the division throughout Wisconsin, along with into Illinois, Michigan, Minnesota, North Dakota and South Dakota.
According to H.J. Martin and Son CEO Edward Martin, "The most impressive quality about Lon is how he has maintained all of his business relationships through the years, continuing to sell and service those customers, while consistently increasing his reach each year. Lon's work ethic speaks for itself – he puts in endless hours to help grow the residential division – and he always has fun along the way."
Lon earned a B.S. degree in business from the University of Wisconsin-La Crosse in 1982.