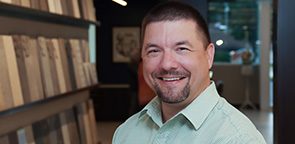 Bret joined H.J. Martin and Son in 2012 as an assistant project manager in the National Installation Division and was promoted in 2014 to Project Manager and is a Project Executive as of 2021. He oversees the work with highly recognized retailers across the United States, primarily focused on construction management, fixture installation, remodels, and rollouts.
Under Bret's leadership, H.J. Martin and Son has completed more than 2,500 retail locations nationwide. He has helped H.J. Martin and Son maintain placement on the ENR Top 600 largest specialty contractors list annually since 2014.
Woodland graduated from the University of Wisconsin-Stout in 2001 with a B.S. degree in construction management.
Professional and Community Involvement
Bret has been a member of the Chain Store Age Magazine Advisory Board for its annual SPECS trade show since 2019. The event is attended by retail and restaurant corporate executives involved in the planning, design, construction and maintenance of stores and restaurants nationwide. His role on the board involves educational planning, and as an acting ambassador for the trade show.
Woodland is an active member of The Family Church in Neenah, Wis., and was Church Council Chair from 2014-2017. He now serves on the Stewardship Team.