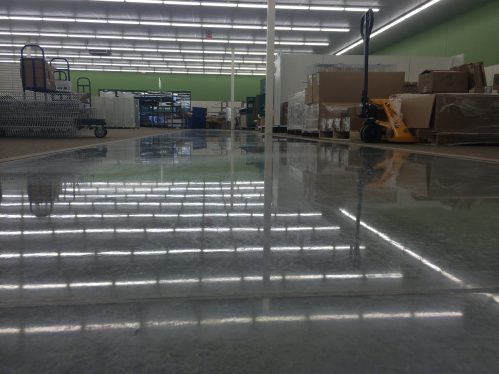 Case Study
Shopko
Project Divisions: Flooring & Ceramic Tile
Location: Multiple locations in multiple U.S. states
Completion Date: October, 2016
Project Description:
General merchandise retailer Shopko continued the expansion of its Hometown format, which is focused on serving the needs of smaller, rural communities.  These stores are in the range of 25,000-28,000 square feet, and many go into existing buildings vacated by retailers such as ALCO.
Several divisions of H.J. Martin and Son worked in 70 locations in 17 states, primarily in the western half of the United States, from March 2016 through October 2016.  During the six-phase project, each store was completed in five weeks, utilizing a crew of five people.
The company also provided concrete-polishing services for 16 new stores in the states of Idaho, Iowa, Nebraska, Texas and Utah.
Serving as the construction manager at each location, scopes self-performed by H.J. Martin and Son included fixtures, carpentry, flooring and concrete polishing.  Local sub-contractors were utilized for electrical work.  At a typical store, Week 1 was spent on fixture relocation and electrical work.  In Weeks 2-4, carpentry and fixtures work, along with flooring installation, took place.  The final week was spent on repairs and wrap-up work.
Many of the locations went into existing facilities, and the amount of repairs required by H.J. Martin and Son to bring each store up to the Shopko Hometown standard varied substantially.  The range of repairs included walls, ceilings, floors and paint.
H.J. Martin and Son was chosen by Shopko to perform this project because it always has met deadlines with the retailer, along with the fact that it consistently is "willing to go above and beyond."
---
Navigate Featured Projects
Connect With A Specialist