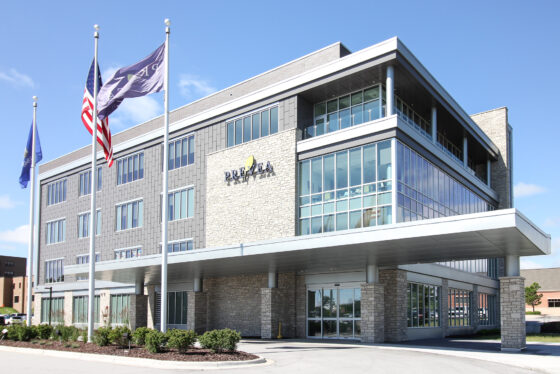 Case Study
Prevea St. Nicholas
Project Divisions: Flooring & Ceramic Tile, Walls & Ceilings
Location: Sheboygan, Wis.
Completion Date: November, 2019
Project Description:
Prevea Health is a health care organization that provides primary and specialty care in more than 80 locations across Northern, Eastern and Western Wisconsin, including clinic and hospital settings. It is partnered with six Hospital Sisters Health Systems (HSHS) hospitals in the state – in Green Bay, Sheboygan, Oconto Falls, Eau Claire and Chippewa Falls – to provide an integrated care system.
In April 2018, Prevea broke ground on a five-story, 61,000-square-foot medical office building on the northwest side of its HSHS St. Nicholas Hospital campus in Sheboygan, Wis. The concept of the new facility was to make the health care provider more efficient by consolidating its existing specialty services at a single location. In all, more than a dozen specialties are housed there.
The brand-new building makes excellent use of its space. There is little wasted room, while remaining aesthetically pleasing. Environmentally friendly practices were utilized throughout the construction process; these included the use of locally sourced materials, LED lighting and low-flow plumbing.
The Walls & Ceilings and Commercial Flooring divisions of H.J. Martin and Son were involved in this project. Walls & Ceilings handled both drywall-related work, along with the acoustical ceilings.
The drywall aspect of the project lasted roughly 47 weeks, utilizing an average crew size of nine installers per week. Work began in August 2018 and wrapped up in June 2019. A fifth-floor buildout later was completed as part of a change order.
Standard structural studs, drywall studs and fiberglass sound insulation, along with drywall and taping materials, were among the conventional products utilized on this project. Fire-treated wood products were purposed for exterior and interior blocking and backing.
A unique material used was RainBarrier® by Thermafiber®; this exterior mineral wood product is applied over exterior gypsum sheathing to provide a continuous insulation system.
A three-person crew from H.J. Martin and Son placed acoustical ceilings throughout the entire facility, floors 1-5. The trio were on site for five months, covering April through August 2019.
Distinctive Armstrong® WOODWORKS Linear wood was installed in both the main lobby and elevator lobbies. This product offers depth and drama to its space.
The Commercial Flooring division of H.J. Martin and Son installed a variety of products in the brand-new building. With the overall project behind schedule, the company helped to make up time.
Among the flooring materials utilized were Milliken carpet tile, Shaw luxury vinyl tile (LVT), Mannington sheet vinyl and Armstrong® vinyl composition tile (VCT). As a medical facility, special attention was given to the installation of Johnsonite cove base.
Three flooring installers were on site for six months. Though Prevea began seeing patients in the facility in mid-August 2019, H.J. Martin and Son personnel wrapped their work, including the late addition of the fifth-floor buildout, in November.
---
Navigate Featured Projects
Connect With A Specialist