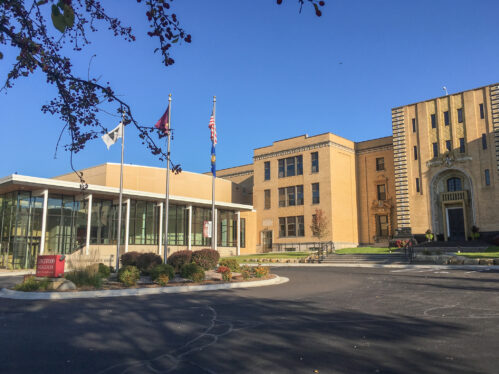 Case Study
Edgewood High McKinley Performing Arts Center
Project Divisions: Glass & Glazing
Project Manager(s):
Chad Hultman | chad@hjmartin.com | 920-490-3108
Location: Madison, Wis.
Completion Date: August, 2019
Project Description:
Edgewood High School of the Sacred Heart is a private, Catholic high school located on the east side of Madison, Wisconsin. After years of planning and communication with hundreds of stakeholders, Edgewood High School could finally move forward with their plans to create a more innovative learning environment for their students. Their goal was to enhance the high school experience for their students and help attract future students to the district as well. 
The centerpiece of the construction was the building of the new Commons, which includes the new McKinley Performing Arts Center. In addition, the school's main entrance and administrative offices moved to the Commons as part of the project. 
The H.J. Martin and Son Glass & Glazing Division worked with Edgewood High School to help construct and install Kawneer curtain walls in the main entrance. Kawneer is the lead manufacturer for curtain walls and their products have been used by H.J. Martin and Son for multiple curtain wall projects in the past. 
Working around difficult corners and transitions were some of the few challenges with this project, but with the help of four highly-trained installers, the job was able to be completed in six months. 
This new addition to Edgewood High School further included renovating spaces for student services and visual art rooms for a wide range of mediums. The Performing Arts Center includes a 465-seated theatre, classroom, and rehearsal spaces. This space was meant to help spark creativity for students and to adapt to the Americans with Disabilities Act to create a friendly layout that anyone can enjoy. Currently, Edgewood High School is constructing a new gym and workout space for the 2020-21 school year.
---
Navigate Featured Projects
Connect With A Specialist