Mood Boarding with Angela

Posted on January 11, 2016 by Angela McNitt
Interior designers always know how to find just the right combinations to help you say exactly what you want. Some designers like to create mood boards that show various ways to mix and match products; creating the mood you desire and achieving a look you love.
One of our interior designers, Angela, put together some mood boards of products she was excited about. Take a look at what she came up with, in her own words: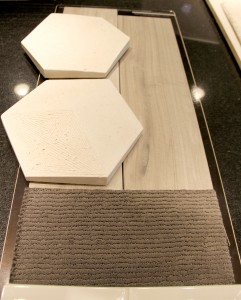 Hive Tile: Etched Cream 10 x 8.6; Wood Look Tile: Half Baked Whipped Cream 1 ¼ x 6; Carpet: Chez Côte cc41 Smoke Legn Bianc 6 x 36
 I love the contemporary design of this combination, the way the dark grey carpet contrasts against the other selections and the clean, sleek lines. The hive tiles bring dimension and texture with a mixture of concave and convex pieces and the wood look tile really pulls everything together.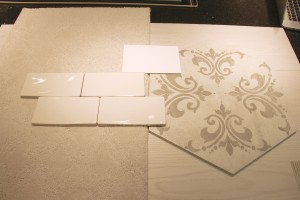 Highland Park Tile: Antique White 3 x 6; Approach Deco Tile:  White/Grey; Carpet: Highland Pointe – Shining Star; Hardwood: Bloomsbury West End Engineered European oak 7 ½ x 75 
With this mood board I wanted to create a monochromatic design to emphasize the Pantone color of the year, simply white. I like how the textures and tone-on-tone patterns create a subtle interest while staying traditional.
Sophie Anthracite Tile: 12 x 24 Nadja Nero Panthera Honed and Nero Panthera Polished/Circle; Mos. Brick Tile: Bl-Gris Mirror; Oxford Negro Tile: 4 x 16
The focus of this eclectic design is the stunning water jet-cut mosaic with an old Hollywood glamour feel. I chose other tile selections that are simple to emphasize the mosaic as the focal point. The brick mirror mosaic brings a mix of stone and glass.
Check out Angela's profile to learn more about her and her design style!
Tags: Angela, Angela McNitt, Angela Ver Duin, Design, Design Tips, designer, Moodboard, Moodboarding, Tips