Sarah Oliver joins H.J. Martin as residential flooring designer

Posted on September 12, 2016 by HJ Martin & Son
U.P. customer-service professional to assist with residential flooring needs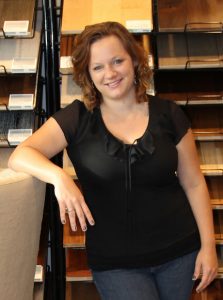 Green Bay, Wis. – Sarah Oliver, a long-time customer-service professional in Michigan's Upper Peninsula, has joined H.J. Martin and Son in the position of residential flooring interior designer/showroom sales.  In that role, she will utilize her design skills to assist customers ranging from showroom inquiries to general contractors in their residential flooring needs.
Oliver spent the past six-and-a-half years as a kitchen designer at Hometowne Kitchen & Bath Design Center in Kingsford, Mich., and, before that, at The Home Depot in Iron Mountain, Mich.  With those companies, she utilized computer-aided design (CAD) programs to provide clients with their desired look, based on blueprints or measurements she took.
A 2006 graduate of Fox Valley Technical College with an A.A. degree in interior design, she also studied fire science at Northeast Wisconsin Technical College.
Tags: CAD programs, customer service, Fox Valley Technical College, H.J. Martin and Son, Hometowne Kitchen & Bath Design Center, Interior Design, residential flooring designer, Sarah Oliver, The Home Depot