Our Expert Shares the News on Hard Surface Trends for 2013

Posted on August 6, 2013 by H.J. Martin and Son
As an interior designer for H.J. Martin, one of the things Valerie Greetan most enjoys beyond working with her clients is attending industry shows to learn about top trends. One of the most recent shows she attended was the annual Coverings convention, which was held in Atlanta this spring. This show features fresh, new ideas from stone and tile vendors.
Coverings is one of my favorite trade shows. More than 900 tile and stone vendors from all over the world display all that is new and fabulous in their industry. It's a great show because the competition between the exhibitors is fierce, which is great for design professionals like me and even better news for our clients, who benefit from that competitive environment.
If I had to sum up this year's convention in three words, it would be: Classic, organic and colossal.
Classic
There is certainly no shortage of stones and porcelain tiles in the classic white palette that now is the preferred choice for virtually every floor, wall and shower of the dream baths found on houzz.com.
The great part of selecting these classic whites – Calcutta, Carrara, Danby, Thassos and the other variations on the market – is that this look will be around forever.
These stones are fabricated into some of the most beautiful water jet and mosaic patterns imaginable, incorporating glass, precious metals and contrasting stones.
Don't overlook porcelain imitations of this classic look. Classic looks rendered in porcelain appear very real without the maintenance or cost associated with the real thing.
Many vendors are taking the century-old, classic subway tile to a whole new level through the use of unique sizes and beveled edges. For example, the Oxford collection from Marazzi offers beveled wall tile in 5 x 15 and 10 x 15 size options and an urban classic color palette. I anticipate this is a collection that will be a big hit with our customers.
Organic
The next trend category from the Coverings show is what I would consider hybrid surfaces. In an industry where organic designs are super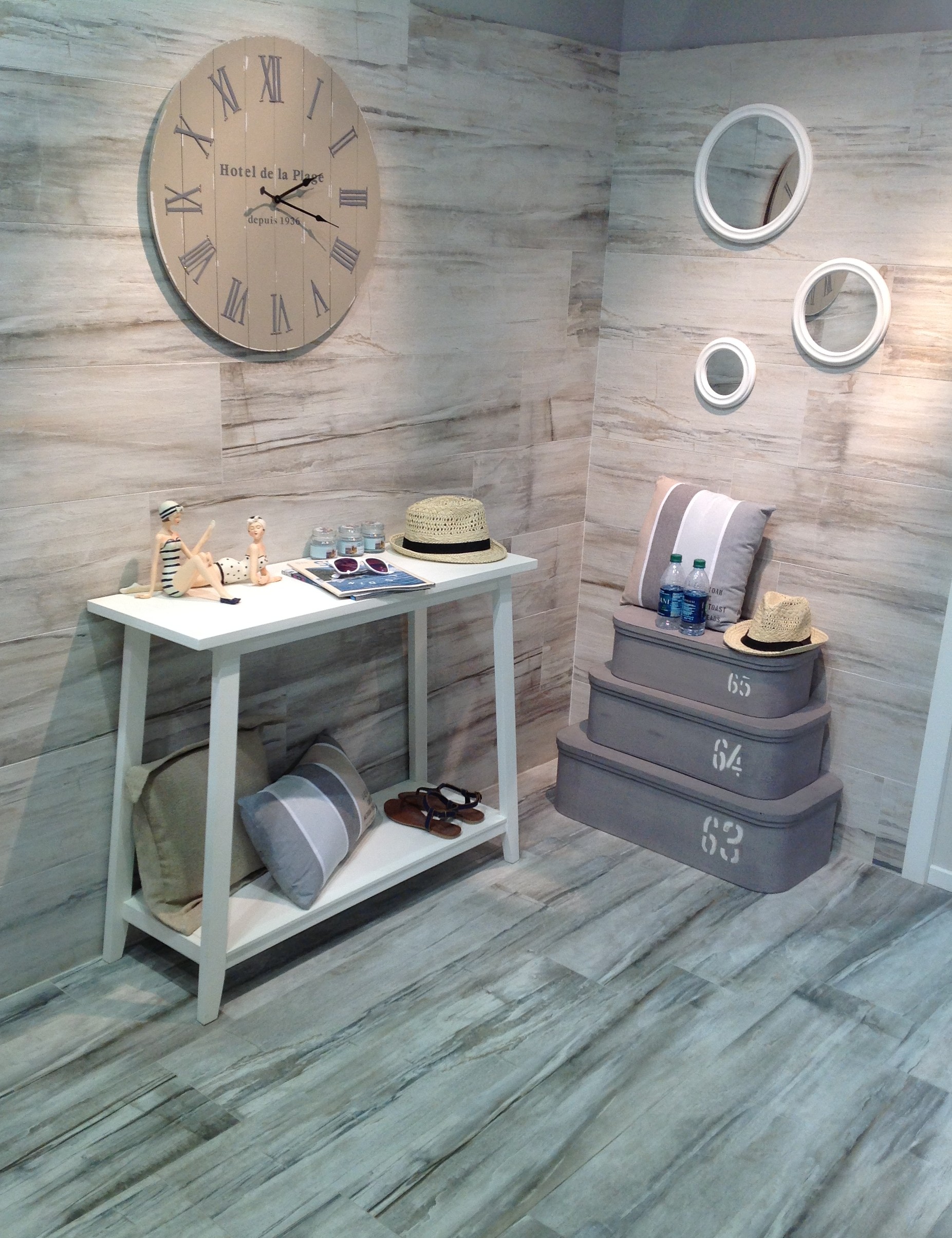 chic, many vendors are launching tiles in "plank" formats that represent a mixture of stone and wood looks.
These tiles are open to interpretation, much like a piece of art. Are they trying to look like stone? Or are they trying to look like wood? What I like about these designs is that they make a natural yet bold-looking accent to just about any design for floors, walls or ceilings.
Colossal
Large format tiles have been in for some time now.  Just a few years ago, 12 x 12 and 13 x 13 formats were considered standard, but with advancements in technology tile manufacturers are able to create much larger tiles. This means that our customers now can incorporate the newer standard sizes of 18 x 18 and 12 x 24.
At this year's show, I saw floor and wall tiles in some incredible sizes. The Rome collection by StonePeak has a multi-format Versailles pattern in random sizes, including 24 x 24 and 24 x 48. Porcelanosa, a valued H.J. Martin vendor, has manufactured large format, technologically
advanced and designed tile in Spain since 1973. The dimensions and textures they create in 12 x 35 tile sizes are unlike anything else I've seen in the industry.
If I had to give an award for the most forward-thinking company at Coverings, it would be SICIS, hands down. Everything they do is truly a one-of-a-kind masterpiece. From lighting, mannequins, plumbing,
jewelry, furniture and every other unimaginable idea you could think of to cover in tile, they are THE company.
Coverings is all about growing relationships with our current vendors and building relationships with new vendors to enhance the work we do for our customers.
One of our current partners is RedRock Tileworks, which just launched some new, handmade, hand-glazed tiles called the Sucra Collection. This collection's patterns were inspired by the boulangeries, or bakeries, of
France, and they combine delicate, simple lines for a "delicious" twist on a regular surface field.
Finally, one of the things I am most excited to use this year is Dimensions' multidimensional wall tile by DEX. These three-dimensional
wall tiles can be produced in the paint color of your choice, adding enormous impact even in the smallest of spaces.
Look for many of these items to hit later this fall at H.J. Martin Flooring Design Centers, located in Green Bay and Neenah, Wis.
Tags: Appleton, Coverings, DEX, Green Bay, Marazzi, Neenah, Porcelanosa, RedRock Tileworks, Rome Collection by StonePeak, SICIS, Stone, Tile