H.J. Martin featured in the Green Bay Press Gazette's "Kitchen upgrade adds lasting value"

Posted on February 8, 2010 by H.J. Martin and Son
GREEN BAY, January 17th/Green Bay Press Gazette/By Warren Gerds:
Upgrading your kitchen gives you the immediate satisfaction of improving the look, and you create greater resale value.
"When you have the house appraised, the appraisers look at that carefully, and it does make a big difference, and they know what a really good floor, countertop or backsplash (looks like)," said Pete Cichowski, owner of National Marble & Stone of Green Bay.
"It means a lot to them.  It does bring up the price of your property.  Many people do it just to bring up the price for resale value."
For the sake of this article we'll imagine a homewoner who's happy with the cabinetry and plumbing and appliance layout but will upgrade with wood flooring, new countertops and backsplashes.
Flooring
Your choice of wood will depend on the existing woodwork, casework, doors and cabinets, said Valerie Greetan, interior designer with H.J. Martin and Son of Green Bay.  "It's important that you bring in a sample of what your exisiting wood tones are, because wood tones vary," Greetan said.  "Species vary, and scheme colors vary significantly."
Hardwood flooring costs can range from $3 to $40 a square foot, uninstalled.  For the long run, Cichowski advised, "Avoid the cheaper product."
Maple, wide plank and a rich, dark look are among popular choices these days, Greetan said.  "Wood is very natural and neutral, too," she said.  "Pretty much anything goes when it comes to colors of wood."
The seasonal changes in Wisconsin may affect your decision.  "Typically, an engineered floor (like 12-ply) is recommended because it doesn't move and expand and contract the way a solid wood floor does." Greetan said.
Stores have samples galore.
"Customers can pick out species and grade of wood, depending on how much character they would like," Greetan said.  "Then they can pick out the stain color that they would like applied to that wood."
Some floors are installed, sanded and finished in the home as opposed to prefinished wood, which comes out of the box, goes right in and it's done.  Be careful not to change the look of your kitchen too drastically.
"Don't make your house way different than it's supposed to be in some parts and not the rest of it," Cichowski said.  "That might bring the value down."
Countertops
Bring a simple sketch to the store with basic dimensions of the area to be resurfaced, a sample of woodwork or a photo of the flooring.  "The biggest consideration is you want to tie that floor surface in with the countertop," said Mark Nussbaum, sales and design consultant at Prestige Custom Cabinetry of Green Bay.
The growing range of products gives you many choices – and decisions – to make.  "Laminate countertops have come a long way from years past," Nussbaum said.  "There's high-definition surfaces available.  They're called HD tops.  Laminate manufacturers have done a great job in replicating the granite look, the solid-surface look.
"A lot of customers are also going with a true granite countertop now.  Of course, it's considerable more costly but in the long run really adds to the value of the home and the remodeling project."
Backsplash
Make an impact by adding a backsplash to your kitchen.  Again, come to the store with your aids for designing – wood tones, countertop sample, dimensions, wall paint color and pictures.
Materials, colors and styles – and cost ranges – are plentiful in handmade tiles, glass mosaics, stone mosaics and antique, hand-painted terra cotta.
"A backsplash is the icing on the cake, so to speak," Greetan said.  "It pulls together the whole look of your kitchen.  It's really important that it be the right scale, the right color, the right fit, the right texture."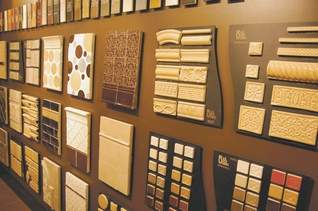 The possibilities go on and on with kitchen upgrades.
"If you don't feel you can make the decisions yourself, you don't necessarily have to get a designer, just go ask a lot of questions at all the stores that sell all the materials and they'll help you," Cichowski said.  "They have readouts of diagrams and blueprints at many of the places."