H.J. Employees Bring Information Back to Customers through Armstrong Mill Tour

Posted on March 26, 2013 by H.J. Martin and Son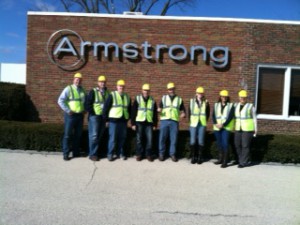 Six H.J. Martin employees recently got a chance to see first-hand things they only could talk about previously.  Members of the H.J. Residential and Commercial teams traveled to Kankakee, Ill., on March 12 to visit the manufacturing plant of Armstrong flooring.
At Armstrong, the H.J. employees received training on how the Armstrong flooring they sell and install is made, specifically Vinyl Composition Tile (VCT) and residential Luxury Vinyl Tile (LVT).
"Seeing the manufacturing process take place and having a better understanding of why it is done that way really fires you up to support the Armstrong product line," says Pete Nelson, an H.J. Martin project manager who took part in the plant tour.  "It was pretty amazing to see the measures Armstrong takes to provide a good product.  They produce a high amount of product each year with very little defects."
Being able to showcase its manufacturing plant with an in-person visit is a win-win in the eyes of the company, too.
"We like to give our industry partners the opportunity to see how Armstrong products are being manufactured," says Shelly Davis, commercial territory manager for Armstrong.  "It also lets them see our strict quality-control guidelines.  The people from H.J. Martin then are able to take this information back to their customers."
Armstrong is a leading manufacturer of residential and commercial flooring, along with ceiling systems, and is a valued industry partner of H.J. Martin.