Taking Care Of

Your Investment

From carpeting to ceramic tile to vinyl flooring, we have the experience and the technology to professionally clean any type of floor. Our team of certified, fully trained technicians use the latest power truck mounted systems to refresh and restore your business, making your old commercial flooring look like new.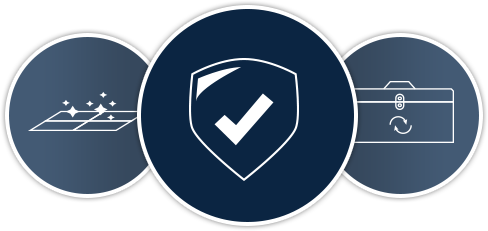 Clean, Protect, and Repair
When it comes to sprucing up your business, we always prepare the area by vacuuming, pretreating, and raking. We'll work with you to move furniture at no cost and keep what we do move safe, with corner protectors and foam pads.
Guided By Experts
Officially starting our cleaning services more than 17 years ago, HJ Martin & Son has a combined experience of over 60 years and is certified in cleaning carpet, natural stone, tile, vinyl and more.
At HJ Martin and Son we know how important it is to keep your business looking good, but also up and running during primary business hours. We understand that the commercial cleaning services we deliver are critical for the success of your business and are prepared to help you accomplish your cleaning needs when it is best for you, using the best CRI chemistry and highest level equipment, with the best highly-trained and certified HJ Martin technicians.
Watch The Timelapse Video
With a fleet of four trucks, HJ Martin's floor care division is equipped with water-based vacuum extraction cleaning systems that are more powerful and often more effective than solvent-based methods. Whether carpet, concrete, or ceramic tile, we can also tackle your large commercial spaces inaccessible to our cleaning trucks. Unique application methods like ResisTech carpet maintenance, which cleans itself every time carpet is vacuumed, allow our teams to focus on keeping your business up and running at all times, while consistently looking good. And at the end of the day, our teams are on call 24/7 and are IICRC certified to take care of your repair and restoration insurance claims.
We are equipped with nationwide resources to meet your cross-country needs, offer ongoing maintenance programs, and proudly guarantee a job well done. Our floor care services include:
Hot water extraction carpet and upholstery cleaning
Ceramic tile natural stone cleaning, sealing, and restoration
Vinyl floor stripping; waxing and polishing
Hardwood deep cleaning and furnishing
Marble cleaning and restoration
Concrete cleaning and polishing

VCT (Vinyl Composition Tile) cleaning
Grout cleaning, sealing, and recoloring; re-caulking
Shower and mold cleaning
24 hour emergency water extraction and fire restoration
Custom floor maintenance programs